WB wants Govt. progress over 4 key risks
The World Bank, one of the biggest supporters of Sri Lanka, has called for fast-tracking of reforms, better governance and a balance Budget if the country is to ensure sustained growth and development.
The listing of priorities for Sri Lanka by the World Bank is contained in its just released twice-a-year South Asia Economic Focus (SAEF).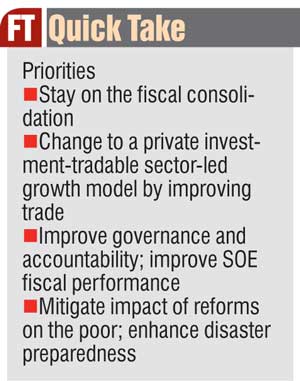 The World Bank, which accounts for over 10% of multilateral donor funding, said Sri Lanka faces several challenges that increasingly put its future economic growth and stability at risk and they must be addressed through determined policy actions.
Specifically, the bank listed four broader priorities: (1) stay on the fiscal consolidation path by broadening and simplifying the tax base and aligning spending with priorities; (2) change to a private investment-tradable sector-led growth model by improving trade, investment, innovation and business environment; (3) improve governance and accountability by implementing the Right to Information Act for citizens engagement and improve SOE fiscal performance and service delivery; and (4) reduce vulnerability and risks in the economy by dealing proactively with the Eurobonds maturing from 2019 onwards, mitigating the impact of reforms on the poor and vulnerable with targeting spending, and enhancing disaster preparedness.
The recommendations by the bank are after acknowledging that the Government is progressing with an ambitious reform agenda, albeit at a slower pace, aimed at improving competitiveness, governance and public financial management that would bring long-term benefits.
"Continuation of reforms along with the IMF program will add to the confidence while helping reform the tax system to pursue revenue-led fiscal consolidation. The monetary authority has confirmed that it stands ready to take appropriate action in the direction of stability. These factors have contributed to an improved outlook," the World Bank said.
According to the bank, Sri Lanka's external risks include disappointing growth performances in key countries that generate foreign exchange inflows to Sri Lanka either through exports, tourism, remittances, FDI and other financing flows. Tighter than expected global financial conditions will increase the cost of debt and will make rolling over the maturing Eurobonds from 2019 more difficult. A faster than expected rise in commodity prices would increase pressure on the balance of payments and make domestic fuel and electricity price reforms more difficult.
On the fiscal and debt management front, risks include the delay in implementing revenue and liability management measures; and a slower than expected improvement in tax administration. The increasing occurrence and impact of natural disasters could have an adverse impact on growth, the fiscal consolidation path, the trade balance and poverty reduction. Finally, the complex political environment could delay important reform implementation in competitiveness and governance.