1,000 MW in new power plants up for grabs
The Power and Energy Ministry has begun the process of procuring power up to 1,000 MW to meet the demands of the Long-Term Generation Expansion Plan (LTGEP).
Under pressure from the Public Utilities Commission of Sri Lanka to launch the long-term generation plan and thereby avoid a shortage, the Ceylon Electricity Board (CEB) has drawn up plans to call for bids for a number of renewable plants as well as a barge-mounted Heavy Fuel Oil (HFO) plant. The 13 plants in total are to be commissioned by the beginning of 2020.
The CEB is now in the process of appointing technical evaluation committees to float most of the tenders.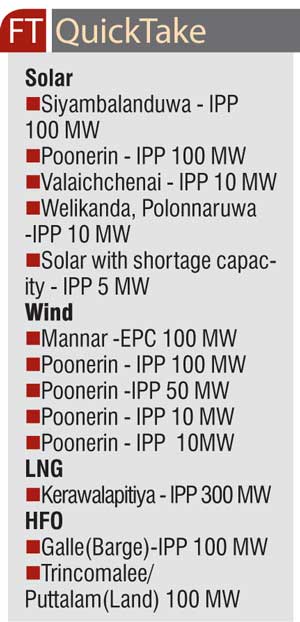 An invitation for bids has been issued for two Solar Independent Power Plants in Polonnaruwa and Valaichchenai while a tender has been floated for the 100 MW wind plant in Mannar for the Engineering, Procurement and Construction (EPC) project.
Bids have already closed for a 300 MW Liquefied Natural Gas (LNG) plant in Kerawalapitiya, CEB spokesperson Sulakshana Perera told Daily FT.
Technical evaluation committees have been appointed to float tenders for a 100 MW barge-mounted HFO power plant in Galle, 4x24MW HFO plants and two solar plants of 100 MW each in Siyambalanduwa and Poonarin.
According to the implementation plan outline of the CEB, four more wind plants generating 170 MW and another solar plant of 5MW with storage capacity are in the pipeline.
"These projects will take time to be tendered. The technical evaluation committees have not been appointed yet," Perera said.
The board has received only 45 bids for the tender floated to build 60 solar plants of 1 MW which was floated earlier, and are now in the evaluation process.
However, PUCSL Director General Damitha Kumarasinghe stressed the need to adhere to an implementation plan to avoid the looming energy crisis.
"At least 50% of these plants have to be commissioned by 2018 and the rest by early 2020 if we are to avoid any power crisis. Therefore it is imperative to float these tenders as scheduled," Kumarasinghe told Daily FT.
Accordingly, the tenders should be floated immediately, Kumarasinghe emphasised.
Apart from the immediate measures to be taken under the LTGEP, the CEB has been requested to submit the implementation plan for 2021-2027 as well.
"If they do not adhere to the timeline to work towards implementing the plan, the crisis will be unavoidable. The CEB has to identify lands for plants to be set up from 2021 onwards now to ensure they stick to their plan. We have asked for the implementation plan to monitor them closely," said Kumarasinghe.