President to appoint new govt. if P'ment undissolved: SLFP
Nimal Siripala appeals to SC to give decision soon 
Says only way to move from current crisis 
Samarasinghe says President will appoint new govt. if Parliament is not dissolved
Criticises UNP for fearmongering to create a breakdown in government services
Says issues of North, East communities being addressed by President
The Sri Lanka Freedom Party yesterday made an "appeal" to the Judiciary to deliver the decision on the Fundamental Rights petitions filed against the dissolution of Parliament soon to "save the country from anarchy."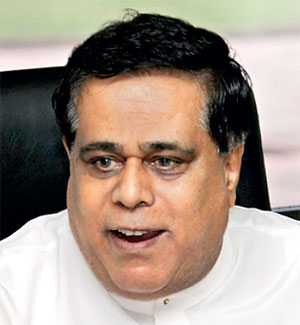 SLFP member Nimal Siripala de Silva
"We know the Supreme Court also has challenges, but we expect that the decision will come soon as it is essential to get the country back to normal,"senior SLFP member Nimal Siripala de Silva said while speaking at a press conference held at the party headoffice.
De Silva noted that President Maithripala Sirisena had already stated that he would respect the decisionof the Supreme Court regardless of the outcome and work accordingly. In the event the court decides against the dissolution of Parliament, the President will appoint a government comprising "whoever can command the 113," SLFP parliamentarian Mahinda Samarasinghe said. However, he was not able to clarify how Sirisena would address the situation in the event UNP leader Ranil Wickremesinghe commanded the majority in the House.
Responding to a question regarding the constitutionality of the President's stance that he would not appoint Wickremesinghe under any circumstances, Samarasinghe said it was a "personal opinion" on a policy matter.
However, sources said that the party was evaluating possible options as the quo warranto case filed by 122 members of Parliament before the Court of Appeal may limit possible action to be taken on the decisions following the determination of the Supreme Court on the gazette to dissolve Parliament.
The SLFP maintained that their government, appointed by Sirisena after 26 October, was still legal, stressing that only its functioning in office had been stayed by the Court of Appeal. As such, the President will not be able to appoint a new government, party sources claim.
"The Stay Order given has really put the Government in a fix. We still hold the positions but we cannot function in it; the country has come to a standstill," de Silva claimed.
Criticising the statements made by UNP parliamentarians on the issuing of summons to five high-ranking civil servants to appear before the Parliamentary Committee, Samarasinghe said that State employees should have no doubts or fear in carrying out their duties.
The SLFP senior also said that the President had taken special measures to address issues concerning communities in the North and the East.
"The Army has given a guarantee that 97% of land privately held by them will be released to the owners by the end of this year," he said.