Feeding alcohol to toddler: Father says it was water in the bottle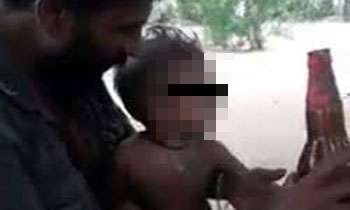 The father of the baby, who was seen in a social media video, feeding it with a beer bottle, told court yesterday that it was water that was in the bottle and not alcohol, as charged.
Four men, including the 40-year-old father of a baby, who had been believed to have fed an alcoholic beverage to a toddler, had been remanded till August 1 by the Galgamuwa Magistrate yesterday.
However, the father maintained that it was water.
The Maegalawa Police yesterday arrested the suspects after the video went viral on social media.
The video shows the father, keeping the 13-month old baby when drinking with his friends and feeding the contents of the bottle to the toddler.
The suspects, aged between 23 and 50 and residents of Meegalawa, were remanded on charges of child cruelty.
Meanwhile, the father of the toddler informed the court that it was water, which was in the bottle and not an alcoholic beverage.
However, the Police produced the said bottle to the court and said there was evidence that it was beer, that was inside the bottle.
The toddler also has been produced for a medical test before the Anuradhapura Judicial Medical Officer (JMO) on Monday.
The Police said they were waiting for a detailed report from the JMO.