Rs. 600 million from Rotary to Sri Lanka focus on 2018/19
There has been a donor funding of $ 3.9 million dollars or Rs. 600 million, given by Rotary Foundation to Sri Lanka in the last five years, said the newly Elected Governor Dushan Soza at the Rotary Grants Seminar at Harbour Room, Oriental Hotel.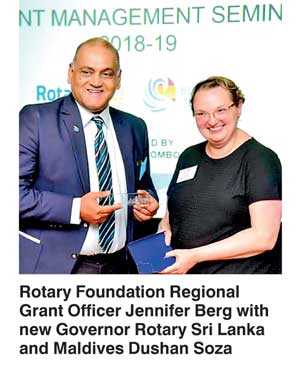 Rotarians from across the country discussed the needs assessment of the changing landscape of Sri Lanka and how to engage Rotary International for a new set of grants for the many projects in Sri Lanka and Maldives. Some of the focused areas that emerged were dengue awareness and prevention, diabetes awareness programs, water projects and literacy drives, given the social issues that keep emerging in the country, said Govenor Soza.
The event was graced by Rotary Foundation Regional Grant Officer Jennifer Berg who gave a global insight on how to tap into the $ 1.5 billion of grant money that is available in the global pot from top international donors that Rotary International is linked to. "I commend the Rotary Clubs in Sri Lanka for some of the key community projects completed and the impact it has made in changing the lives of Sri Lankans," commented Jennifer Berg.
Corporate personality Dushan Soza voiced in his keynote, "This year's theme is 'Be the Inspiration' and in this background, the key projects of the 1st Human Heart Valve and Tissue Bank at Lady Ridgeway Hospital are classic examples of this theme in action. He went to conclude that in Sri Lanka, one of the best project management services for humanity is provided by Rotary. We can implement a service project in a timely manner, at zero administration cost and efficiency. The best case in point was the $15 million project to construct schools post the tsunami in 2004 and the polio eradication program that has made Sri Lanka polio free today. We have some exciting projects in the year to come for Sri Lanka."
Berg challenged Sri Lanka Rotary stating that Rotary Global annually invests almost $ 300 million to focus on the key issues of countries. Sri Lanka is ranked very high on the strong implementing countries and we must apply and qualify for a higher share of the funding based on the needs of the country.
The Rotary Foundation Grants Program is the funding mechanism from Rotary International where Rotary matches 1:1 funds for every club that is eligible to receive, based on a mechanism that is in place that helps bring service project ideas to life.