Study projects smoking up 16% in 2018, calls for more effective policy
Sri Lanka's smuggled cigarette market is projected to grow 21% this year, with around 520 million sticks reaching consumers, as overall cigarette consumption in the country grows 2% to 3.7 billion sticks, finds an industry study conducted recently.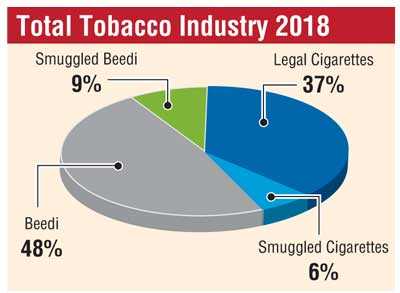 The study is based on a primary survey conducted islandwide during the first three months of the year, and comparing it to secondary data from the first quarter of 2017 obtained from the Department of Customs and Ceylon Tobacco Company (CTC), as well as data from a Household Income and Expenditure Survey, conducted by Census and Statistics of Sri Lanka (2015/16), a Demographic and Health Survey, conducted by Department of Census and Statistics of Sri Lanka (2016/17) and a Population Census, conducted by the Department of Census and Statistics of Sri Lanka (2012).
In 2017, a total of 460 million illicit cigarettes were smoked by Sri Lankan consumers, and the study finds that, 173 million cigarettes were smuggled and consumed in the first 4 months of 2018. This figure is expected grow to over 500 million in 2018, resulting in over Rs. 20 billion in losses to the government.
The study also reveals that Sri Lanka's local beedi industry produces and consumes over 4.2 billion sticks annually, whilst the latest revelation is that a further 809 million sticks are smuggled into the country in the form of finished product or duty-evaded raw materials from India, resulting in a further Rs. 1 billion in losses to the state.
With legal and illicit tobacco products combined, the study projects that Sri Lanka's annual tobacco consumption in 2018 will be around 8.57 billion sticks; up 16% over last year's figure of 7.38 billion. However, the legal cigarette industry, which is the only sector that contributes tax revenue to government, expected to be around 37% of the total market.
The findings lay bare the size and extent of the illicit tobacco trade, and the resultant colossal loss in revenue to the Government. The Department of Customs and the sole legal manufacturer of tobacco products in Sri Lanka, CTC, attribute the rapid rise of illicit products to the country's high tax regime on cigarettes, stating that this has made the country an attractive destination for smugglers globally. By regional comparisons, Sri Lanka has the highest rate of excise taxation, and as a result is the most expensive country in which to purchase cigarettes, while the WHO Report on the Global Tobacco Epidemic 2017 puts Sri Lanka at the number two position globally in term of purchasing power parity. Whilst a pack of Sri Lanka's most popular brand of cigarettes retails at Rs. 1,000, the cost of purchasing a smuggled pack can even be as low as Rs. 200, presenting huge opportunities for illegal gains.
The study also finds that beedi has emerged a cheap alternative for cigarette smokers, resulting in the massive growth of the industry surpassing 4 billion sticks. A beedi is priced at just Rs. 5, whilst the cheapest cigarette is priced at Rs. 20, presenting significant savings to smokers who switch to beedi. Beedi is not taxed in stick form, and a cess is only levied on the tendu leaf which is used for wrappers. The emergence of beedi smuggled from India presents a new challenge to local authorities, in this highly under-regulated sphere.
The study underscores the need to adapt a pragmatic approach towards tobacco control to safeguard Government revenues and public health. It also highlights the need for closer cooperation and engagement between the Government and the industry in order to curb the spread of illicit cigarettes all over the country, before it gathers critical mass, after which point it will become common place to smoke illicits, as experienced by countries like Malaysia and Pakistan.