PM thanks supportive MPs, admits shortcomings, vows to strengthen Govt. and UNP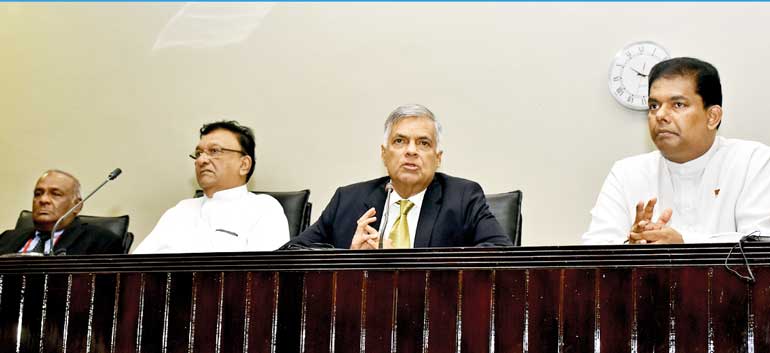 Prime Minister Ranil Wickremesinghe yesterday (4 April) expressed his gratitude to all the Parliamentarians who helped to defeat the Motion of No-Confidence which was brought against him and the Government.
Speaking to the UNP MPs in the presence of media at the Parliament Complex following the vote on the motion, he stated that it was a significant victory and that he will not forget their service.
"We now have to start a new journey. As a Government, we have to proceed with our work much more rapidly along with the message we received on February 10," the UNP leader said.
He stated that the Government has a duty to be more close to the people of the country and that they have to move forward with development activities within the next year, in a manner that is actually felt by the country.
"We did not face this No-Confidence Motion to protect an individual, but to protect the Government and to protect the victory of the people," Wickremesinghe said.
The PM added that the United National Party (UNP) also needs to undergo complete change and that they need to bring new teams forward.
The United National Front needs to be strengthened, he said, adding, that they will look to win the support of the majority of the country and move forward.
The Prime Minister expressed belief that they will be able to achieve those goals within the next year. "We have shortfalls. I won't deny that.  But, this Government has a duty to fulfil the responsibilities expected by the country on January 8, 2015."
He admitted that certain people who were in the Government have distanced themselves, however he vowed to continue ahead with those remaining.
He also said that he intends to meet with President Maithripala Sirisena today (5 April).
The Motion of No-Confidence was defeated with 76 MPs voting in favour, 122 voting against while 26 MPs were absent during the vote.