Battle for local ballot today
Over 15 million people expected to vote countrywide in today's Local Government election that will be crucial to the future of the coalition Government.
According to the Department of Elections, 175,000 public officials will be on duty at a total of 13,374 voting centres set up across the island covering 340 local authorities and 4,917 wards.
A record 57,252 candidates will be contesting this election, the largest number in Sri Lankan voting history, for 8,325 seats in various local authorities. The number of eligible voters is 15,760,852.
Following more stringent legislation regarding duties of public officials during an election period enacted in 2015, tough penalties of a Rs. 100,000 fine or a three year prison sentence will be enforced during the election period.
The Police Department will be out in full force with 65,758 Police officers deployed for election duty.
Accordingly, 26,840 officers will be deployed to 13,374 polling stations, 13,552 Police officers to 3,225 mobile patrols, and 1,106 Police officers to 140 riot squads. Some 3,248 Police officers will be stationed at 464 roadblocks.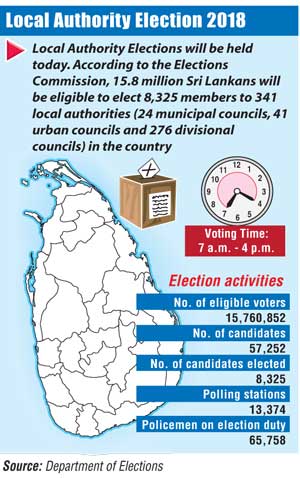 In addition, 4,178 officers of the Police's Special Task Force (STF) will also be deployed for election duty. They will be deployed for mobile patrols and security duties around the polling stations and counting centres.
A further 600 officers from the Civil Defence Department will also be deployed.
From 9 December 2017 to 9 February 2018, the Police have received 191 reports of election law violations for which 372 arrests were made. There were 37 candidates among these arrests.
Election related complaints received by the Police for the same time were 640. Of the 136 arrests made pertaining to these complaints, 25 were candidates.
Additionally, any individual found to have arrived at a polling station, counting centres or even the vicinity of election activities after consuming alcohol would be arrested and produced before courts. Culprits will not be granted Police bail.  Authorities will also arrest any candidates whose accompanying supporters are inebriated and will be charged with aiding and abetting unlawful behaviour, Police warned.
"We do not expect any violence during this election, even during the vote count, as we have deployed enough Police officers to maintain the peace," Police Spokesman SP Ruwan Gunasekara told Daily FT.
Unlike past election campaign periods which were marred with violence and bloodshed, the campaigning phase of this election was peaceful, with many attributing it to the new electoral system.
The exceedingly competitive Proportional Representation system, adopted in 1978, resulted in a wide gulf between the voters and their representatives, transforming politics into a wealthy man's trade.
The new election system, introduced by the national unity government fulfilling one of its major election pledges, is a mix of the proportional representation and the first-past-the-post system aimed at bridging this gap and allowing for the election of politicians with more solid social standing and not just those who have the funds to finance an exorbitant election campaign.
Executive Director of the Campaign for Free and Fair Elections (CaFFE) Rajith Keerthi Tennakoon told Daily FT that this election could be considered as the most peaceful in over a decade.
"I must say that this campaign period has been very peaceful. No serious incidents or election law violations have been reported. Nothing major has happened this time. The change in the electoral system has reduced election violations and violence. When compared with past elections, particularly considering the fact that some 50,000 candidates are contesting this election, this campaign period has been the most peaceful in over a decade," he said.