Sagala on MR: "A man like him would never think twice about betraying country"
Hitting out strongly against former President Mahinda Rajapaksa and his allies, Law and Order Minister Sagala Ratnayaka said Rajapaksa was a man who had no qualms about betraying the country to serve his family.
The Minister said his sole intention behind betraying the Sri Lanka Freedom Party and forming the flower bud party was to find a way to bring his son, Namal Rajapaksa, to power.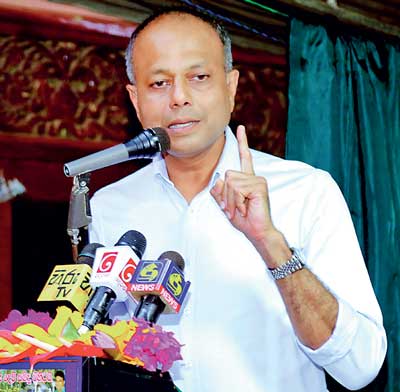 "Such a man will not be reluctant to betray the country for his own benefit," Ratnayaka said, addressing a meeting in Morawaka, on 31 December.
The Minister added that President Maithripala Sirisena was democratically elected as the President and became the Chairman of the SLFP. "Then the President took measures to rebuild the party. That was when Rajapaksa decided to divide the SLFP camp. The flower bud party was formed not for an election, but to ensure a future for the former President's son. It will never bloom."
"Even the ones who genuinely respected Rajapaksa for the military triumph over the LTTE now find it hard to vote for the flower bud party. They have now joined us and work for the UNP's victory," Ratnayaka said.
He said that under the Rajapaksa administration, two roads were built in the Morawaka area – one for the public and one for a private property belonging to the brother-in-law of the former President.  "The road built for the public was washed away after a couple of rains. But the road built for the former President's brother-in-law remained intact. It shows the reality of their so-called development," the Minister explained, adding that the road constructed for the public was mere eyewash aimed at hoodwinking the people before the election.
"Laying concrete or carpet on village roads is not the sole objective of development. We should empower the public – especially the less-privileged sections of society and bridge income gaps. That's what our Government is working on," Ratnayaka added.