Sri Lanka to send women's VB team to South Korea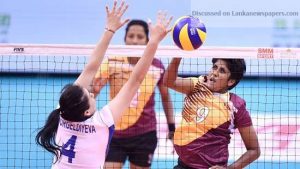 The 20th Asian Senior Women's Volleyball Championships will take place from August 17 to 25 in Seoul, South Korea.
The Sri Lanka Volleyball Federation has selected a team to take part in the championships and they are set to leave for South Korea on August 14. Conducted by the Asian Volleyball Confederation, the event would see a total of 13 Asian countries taking part.
Sri Lanka is in Group 'D' along with China and Indonesia. Group 'A' consists of South Korea, Iran and Hong Kong while Group 'B' sees the likes of Japan, Kazakhstan, Australia and India. Thailand, New Zealand and Taipei have been potted in Group 'C'.
Sri Lanka will face China on August 18 in their first match while the second game will be on August 19 against Indonesia. Sri Lanka needs to win one game to qualify for the second round.
The last edition of this tournament took place in 2017 in the Philippines where Sri Lanka was placed 13th out of 14 countries.
The tournament has been in existence since 1975 with China being crowned champions on 13 occasions. Japan has won it four times including the last edition.
Sri Lanka has been taking part in the event from 1975 periodically.