Deepal retires from Samapth Bank board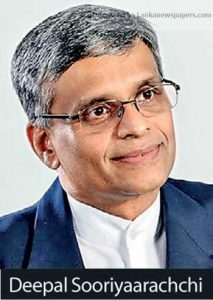 Deepal Sooriyaarachchi will relinquish his duties as a Non-Executive Non-Independent Director at Sampath Bank PLC with effect from today, following the completion of his 9-year term as a director.
His retirement from the bank comes in compliance with the terms of Section 3(2) (ii) (A) of Banking Act Direction No.11 of 20107, Corporate Governance of Licensed Commercial Bank in Sri Lanka.
He does not hold any shares of Sampath Bank. Deepal counts over 30 years of experience in sales, advertising, marketing, human resource development and strategy with extensive experience in the insurance field.
He is a Fellow Member of the Chartered Institute of Marketing UK, Sri Lanka Institute of Marketing and holds a MBA from the University of Sri Jayawardenapura.
Deepal, who is a leading management development consultant, author, accredited master coach and mentor, was a pioneer in disseminating management knowledge
in Sinhala.