Sri Lanka cricket through the eyes of Paul Farbrace
During the World Cup in England and Wales, the Sunday Times caught up with Paul Farbrace who worked two stints with Sri Lanka Cricket (SLC). He was first understudy to Trevor Bayliss, then Sri Lanka's head coach, for two years from 2007 to 2009. He then took over the position in 2014.
Soon after Sri Lanka won the Asia Cup and the T20 World Cup, Farbarce ended his association with SLC and left for England. The opportunity to train his own country and a better financial package was at the heart of his decision to quit the Sri Lankan job/ But an element of instability in his role with SLC made it easy.
In this interview, Farbrace also discusses England's rapid rise in limited-over cricket and why Sri Lankan cricket has struggled to be among the top teams during the past few years.
Q You are one of the architects of England's rapid rise in limited-over cricket during the last four years. But just months before a home World Cup and the Ashes series you stepped down and moved to Warwickshire. Why?
It was always a plan to move on at some stage. Ideally, I'd have stayed until the end of the World Cup and the Ashes. But in international cricket, there's always something around the corner. There's always a series that makes you want to stay for longer. This was just a good opportunity for me to do something slightly different. And you know Warwickshire is a good club and it was a different role. So I was keen to move into it.
Q But you have chosen domestic cricket over international?

I've been very lucky that I had two fantastic times in Sri Lanka. I've had a period with England, my own country, and I thoroughly enjoyed it. So, I have no regrets at all. I was really lucky that I was able to go out when I wanted to, on my own terms. I wasn't sacked, which happens.
Q England Head Coach Trevor Bayliss is set to leave the job at the end of this year's Ashes and you were a likely replacement, having understudied him for four years. Isn't your decision hasty?
I don't think so. There's always an element of needing a new voice, a fresh voice, to come into the team. Trevor and I have been together now for four years. He is ready to move on at the end of the Ashes. He's done a brilliant job for England, as he did for Sri Lanka. He got Sri Lanka to a World Cup final in 2011 in India. These last few years have been excellent, as I say, and I've thoroughly enjoyed them. I want Trevor to go out on a real high because he deserves it.
Q How did this partnership between Trevor and you happen?
We both think about the game in a similar way but we're different people. I may be the noisy one and he is quiet. I'd like to think we complemented one another well. He is calm even when the team is not playing so well. He is good under pressure and we enjoy one another's company.
We thought about the game a lot. We talked about the game a lot and we spent an awful lot of time around the world in coffee shops and hotels over a cup of coffee talking about the game of cricket. We both realized that we were fortunate to be in the position with Sri Lanka, to start with, and then with England. I've learned a lot from Trevor Bayliss and, without him, I wouldn't have had the opportunities I've had in world cricket. I will always be grateful to him for taking me to Sri Lanka.

Q How did the transformation of the English team happen after 2015?
We had no choice but to change the way we played. I think the selectors were brave in that they made some big decisions. They left out some big players who played a lot of cricket for England and successfully. But the team needed a change after that last World Cup and (Eoin) Morgan was reappointed as captain. Andrew Strauss came in as director of cricket and the first thing he did was to reappoint Morgan as captain, which was definitely the right decision.
He's been, I think, the single biggest factor because of the positive way he has led the side. He's positive in the way that he plays and, if the captain plays, the way that he talks, the players get confidence. Morgan, Trevor and Andrew Strauss take a lot of credit because Andrew had the vision and Morgan had the skill to take the team on. Within the England team, there are a lot of match winners who are quite capable of winning games. That gives the team a great chance of being successful in all conditions.
Q Sri Lanka had so many match winners in the past but you don't find them in the team now. Where did we go wrong?
It's always difficult. When you look at the fantastic players Sri Lanka had for a period and when they suddenly leave the game, it takes time to replace them. If there was any criticism, it will be on the selectors. They have been changed too often and, then, the players changed too often. They did not give the players the confidence they needed to establish their positions. An example is Lahiru Thirimanna, a great player who should have been in the team. But he was in the team, out of the team, in the team, out of the team. I think you need to give players far more confidence by backing them. If you give them that, you give them a much better chance of doing well.
Q Is that the only reason. Don't you think Sri Lanka's domestic structure needs a complete overhaul?
When I first went in 2007, there were 10 teams playing in the Premier Division. Then it went to 20 teams. You can have 20 teams but then, in the middle, there needs to be provincial cricket to bridge the gap between club cricket and international cricket.
Unfortunately, when there are too many teams, the gap is too big between first class cricket and international cricket. In England, we've now got 10 First Division teams. Australia has six. When you have a few teams that let you play together and against one another more often, it allows the best players to make an easier bridge into international cricket. So, either you have provincial cricket, or you only have 10 first class teams. Or you have 10 teams in the top division where the best players play against the best all the time.
But, at the same time, sticking with same group of selectors and same group of players is essential. Also, persist with the same captain for a longer period. So don't drop a player when he goes out of form. Allow players to go out of form and come back into form. Stick with people for as long as you possibly can. The players thrive on confidence. And if every time you have one bad game, you get dropped, and then you have one good game you're in and again gets dropped after a bad game is not good. Players don't thrive on that. Sri Lankan players thrive on being loved, on being wanted and having confidence. If you give players confidence, they perform so much better. And that's definitely the case with Sri Lanka.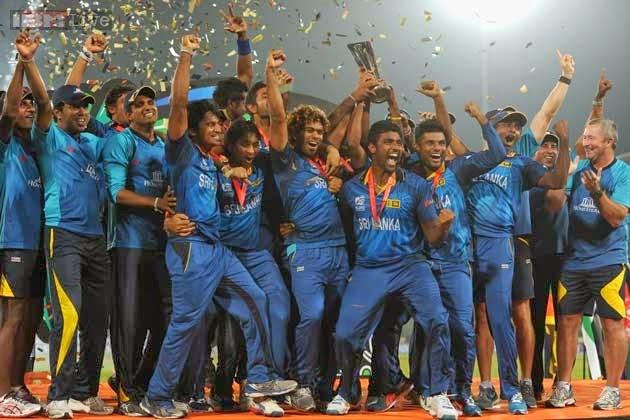 Q When the seniors were retiring, we had some solid young players coming in, like Lahiru Thirimanna, Dinesh Chandimal and Angelo Mathews. But they didn't quite flourish the way we expected?
When you have great players in the side, it is easy for the young players to come and settle. The best thing that a senior player could do is to score runs and take wickets. This allows time for those incoming young players to settle. When Ajantha Mendis came in, he had Murali to settle in. Rangana went on to become one of the greatest Sri Lankan cricketers and he had Murali to work with. When you got senior players, and when all of them have finished, you were left with Chandimal, Mathews and Thirimanna and they don't have those great senior players playing. The only great senior player playing right now is Lasith Malinga. I genuinely think if they stuck with Chandimal and Dickwella, this series in the World Cup would have been different. You need strong characters in the team. You need stability in the team. I think this is something they could have done better in the last few years.
Q What could they do better to turn this slump?
I watched the team play in this World Cup in a few games and I think they lack in confidence. The start they had in the game against Australia, it was fantastic and absolutely brilliant. They played so well. Dimuth and Kusal Perera played magnificently as well but they lost their way in the middle. That's where I still think that if we had a good paring at the top, a good number three, Angelo at four and Kusal Perera at five, we could have done better in that game. Kusal could have taken that game on to a win.
I think the team started with the lack of confidence in Cardiff against New Zealand and then won the next game against Afghanistan. I thought they played really well against Australia. It is easy to be critical and say they should do this and that. When a team is struggling for confidence and when you don't pick up necessarily the best squad to come on a World Cup, it makes hard for the players.
Q Do you see problem in lack of talent in Sri Lanka?
No. What is lacking is backing the talent. My experience with Sri Lankan players is they thrive on being given confidence. They thrive on being loved. If you tell a Sri Lankan player no matter who he is, 'You are a great player and you are going to go and score runs or take wickets', he will thrive on that. But if are consistently being left out and you are not sure of you place, you will not go out and play with confidence.
Q So you mean to say that there's a problem in managing the players?
I don't think it's necessarily that. And I'm not involved in the team at the moment. But I think it's more that, over the last few years, confidence has been eroded in the players because the selectors have changed a lot and, therefore, the players have changed a lot. If SLC starts with one group of selectors for four years and give them a job and then they stick with the same group of players as England have done, that will do a whole lot of good for Sri Lanka cricket. England have gone with the same group of selectors from the last World Cup through almost to this World Cup and it only changed a year ago. So pretty much four years of the same group of selectors and, therefore, the same group of players. And when players get selected to play in the squad and they start a series, they pretty much know if they start in the first match, they will play at least the next four games.
Therefore, if they get out playing a big shot or they have one bad game as a bowler, then they know they're going to play the next game. So they get confidence in that and that allows the team to get confidence because then players know their role in the team. Players love to know what their role is. If you give people the confidence and you give them a job to do and you trust them to do their job, don't be surprised if they make a success of it. But if you're constantly changing, don't be surprised if players lose confidence.
Q You had a fairly successful stint as head coach in 2014, winning 17 out of 18 limited-over matches, including the World T20 title. But four months into the contract you left to join the home country. What happened there?
There were two reasons. One, because England offered me a position and, second, at the time I was under the impression that everybody within Sri Lankan cricket wasn't keen for me to stay and that they wanted somebody else. If they wanted me to stay long term, I would have done. But there was no offer till I offered to resign. It was a shame at the time but England was hard to turn down because England's my own country. But I thoroughly enjoyed my time in Sri Lanka. And, yes, it was a shame to leave, having won the T20 World Cup. But that was few years ago.
I still am so excited to see the team do well. I want the team to do well and I really believe they could be a fantastic team and nobody can convince me that they haven't got fantastic players. I was there in last November and December with England and, despite England winning the series, I wanted Sri Lankan players to do well. There are still so many talented players in Sri Lanka and it wouldn't take a great deal to actually make Sri Lanka successful again. Every team has as a cycle, where you're on the up and then you're on the down side. England had a down period but have been on the upswing in one-day cricket. In Test, cricket you know England are still trying to get to a strong position. It will take a bit of time for Sri Lanka cricket. When you lose great players, it takes a little bit of time. But patience and support for the players… and I think the team will start to play well again.
Q Were you forced to leave the job?
No, I wasn't forced. But there were situations that didn't make it easy for me and that was a pity. That was a great shame. But that was a long time ago and I've been back a few times to Sri Lanka since. I always loved going to Sri Lanka. I'm a massive fan of Sri Lankan cricket and a massive fan of Sri Lankan people. I still keep in touch with an awful lot of people in Sri Lanka, not just players, but coaches and other people that helped me enormously when I was there.
Q How tough was to coach Sri Lanka with all the Board politics and instability surrounding the job?
Well, it wasn't tough in the sense that we were winning a lot of games and we were successful in that period. But the tough thing was I always feel sorry for the players and the coaches because things change on too regular a basis.
Sri Lankan cricket needs a real period of stability and it needs to get the right people doing the right job. If you get the right people doing the right jobs and you have stability, then you have a great chance of being successful.
Q Will you consider another invitation by Sri Lanka Cricket to coach the side?
For a holiday, I'd love to come back. I'm very happy in the job that I've got now. I'm really enjoying it at Warwickshire. It's a great club but you never, ever know. In 2007, when I first went to Sri Lanka, I never thought in my wildest dreams that I would end up there. I was having a fantastic time and working on with one of the best cricket teams in the world, with five of the greatest players the country ever produced. So, you never say never in sport. You never say never.
Q Trevor and you were part of one of Sri Lanka's most successful era. Can you just run us through that period?
We were very fortunate to have had those great players. We had stability within the team and we had some really good people working with us. In Mahela and Sanga, we had two people who were very passionate about Sri Lankan cricket. Mahela was a great help to us, because he took care of stuff around the team and he guided us through those periods. We had so many talented cricketers coming through that period. And, as I say, we were very fortunate that we had a lot of stability. We had only two captains and that makes a huge difference to the team.
Q How is it different to coaching an Asian side compared to more established team like England?
They are different in the way that the game is played. Sri Lankan's are good fighters. They fight to the end. They're very skillful. They know how to win games. They're a tough opponent. England have learned to be a resilient and a strong side and have played fantastic cricket. But you know, the two are too different.
Q But we don't see thesame fighting spirit from the Sri Lankans now. What may have gone wrong?
Against Australia, we saw a real performance from them. They showed real skill. If you are constantly changing the team, it is hard for players in that situation to be comfortable and to be really settled and play their best cricket. I don't think this team is lacking fight. I think this team just need a bit of love and support and a bit of continuity with selection for a longer period.
Q What is your most cherished moment with Sri Lanka cricket?
Without any doubt, winning the 2014 T20 World Cup in Dhaka. Winning that was magnificent. I mean that for me is still the highlight of my time as a coach. It was the highlight for so many people and to come back to Colombo and see so many thousands of people on the street enjoying the success. I also thoroughly enjoyed beating India at home in a Test match series. We beat India 2-1 in Sri Lanka. We beat Pakistan in the Asia Cup in 2014. I think we got to number two in the world in Test cricket and number two in One Day cricket. There were so many exciting things in that period watching Chandimal develop as a young kid, watching Angelo Mathews come on his first tour to Zimbabwe in a five-match ODI series and develop himself to be a fantastic player. There were so many small things that I watched that I thoroughly enjoyed. And that's what has always attracted me to Sri Lankan cricket.
Q Do you have the same enjoyment watching Angelo Mathews and Dinesh Chandimal at present?
I love to see them play. Even when I was in Sri Lanka as much as I wanted England to win because I was part England team, I wanted the Sri Lankan players to play well. I wanted them to make a good account of themselves. I just want them to play better because I want them to show the world how good they are. You know I'm excited by the talent and the skill in Sri Lanka and I want to see those players do better.

Q There's lot of resentment back at home from the fans given team's current performance. What's your message to them?
The players are trying hard. You need to basically back the players, back the coaches and stick with them for longer periods and really allow them to play their best cricket. If they do that I think you'll see a lot more success. The players know how much it means to everybody in Sri Lanka and they're desperate to play well for their team, for their country. And we've seen that. We just need to see a bit more consistently. If we see more consistently then I think the supporters at home will get by.