Mahinda should be awarded 'Bharat Ratna' like Mandela – Swamy Subramanian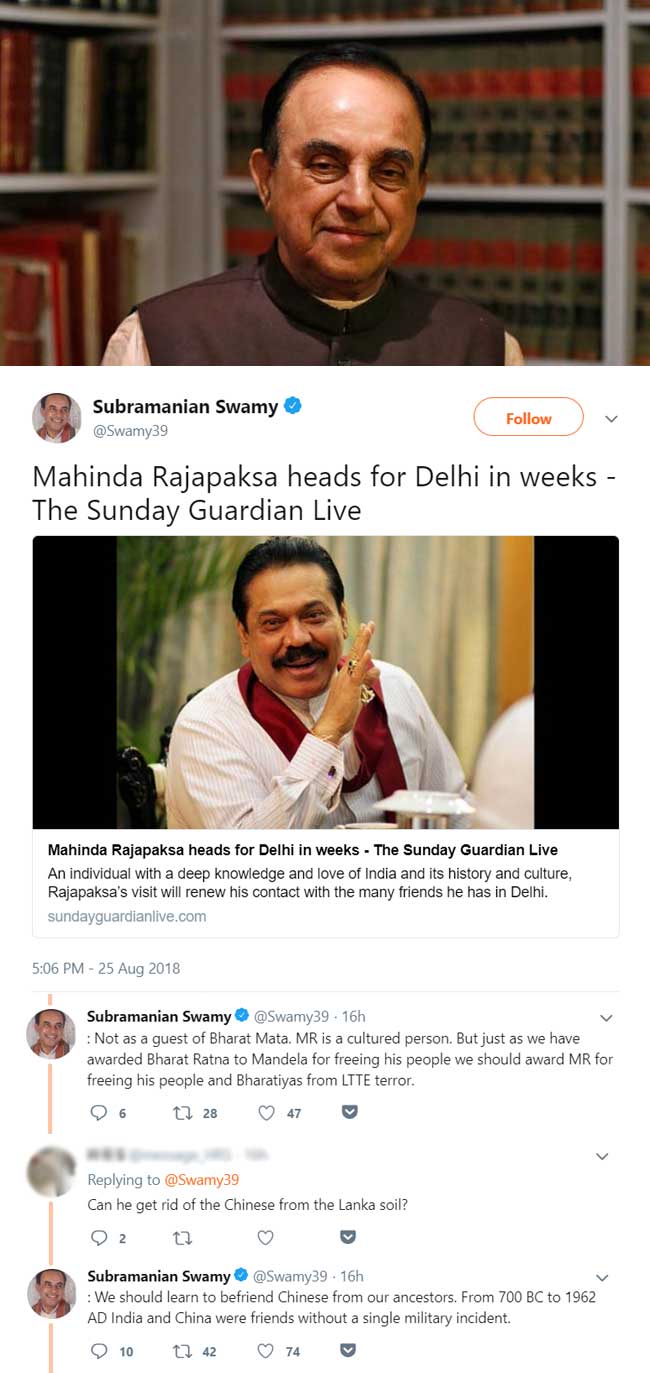 Rajya Sabha MP of the Indian Parliament and senior politician Subramanian Swamy in one of his latest tweets has referred to former President Mahinda Rajapaksa's upcoming visit to Delhi, India.
The Indian MP had previously invited former President Rajapaksa to Delhi to attend a function organized by the 'Virat Hindustan Sangam'.
His tweet stating "Mahinda Rajapaksa heads for Delhi in weeks.." had a link to an article of 'The Sunday Guardian Live' on the former President's visit.
Swamy had also replied to responses and questions on his tweet.
He has stated that Rajapaksa is not arriving in Delhi as a guest and that he is a cultured person.
The same tweet said that the Rajapaksa should be awarded with 'Bharat Ratna' just as Nelson Mandela was, for saving Sri Lankans and Indians from the LTTE terrorism.
His tweet read:
"Not as a guest of Bharat Mata. MR is a cultured person. But just as we have awarded Bharat Ratna to Mandela for freeing his people we should award MR for freeing his people and Bharatiyas from LTTE terror."
Subramanian Swamy also commented on Chinese relations with Sri Lanka as one of the responses to his tweet on Rajapaksa questioned China being on "Sri Lankan soil"
To which he replied, that Indians should learn to befriend the Chinese as they had been friends since ancient time without any military incidents.
"We should learn to befriend Chinese from our ancestors. From 700 BC to 1962 AD India and China were friends without a single military incident.", read his response.
MP Swamy had recently visited Rajapaksa family house in Medamulana to pay his final respects to former president Mahinda Rajapaksa's brother Late Chandra Tudor Rajapaksa who passed away earlier this week.