CPC loses Rs. 5.4 b from kerosene sales
The Ceylon Petroleum Corporation (CPC) incurred a loss of Rs. 5.4 billion from the sale of kerosene oil in 2017, the Government told Parliament yesterday, but expects sales to reduce with more low income houses being added to the power grid.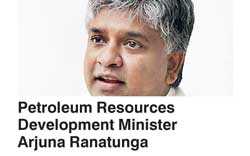 According to Petroleum Resources Development Minister Arjuna Ranatunga, the CPC incurs a cost of Rs. 93.79 per litre. "The cost is borne by the Government and sold at reduced cost to the consumer. A production tax of Rs. 7 per litre is applied," he confirmed. As a result, the CPC bore a loss of Rs. 5.4 billion from kerosene sales alone in 2017.
Rejecting the possibilities of artificial price control on kerosene, the Minister stated that the pricing formula and the committee will decide the selling price based on the world market. "The pricing formula will decide the selling price as per the world market fluctuations.
There is a committee appointed for this purpose as approved by the Cabinet," the Minister said.
There are two types of kerosene sold in Sri Lanka; Lanka Kerosene, which is red in colour and used for domestic purposes, and Industrial Kerosene, which is colourless and is used in factories. According to research, the consumption of kerosene, which had been expected to decline with more homes being connected to the electricity grid, had actually gone up in the past three years. The total kerosene use, which stood at 138,505kl in 2014, has gone up to 198,090kl in 2017 due to increased use by factories and other industries.