Probe into MR's Presidential campaign funds still on: PM
Prime Minister Ranil Wickremesinghe yesterday denied any suspension of investigations into alleged transfer of funds during the 2015 presidential election, a statement made by the Prime Minister's Office said.
Addressing the Parliamentary group of the United National Front (UNF) at Temple Trees, the Prime Minister noted that investigations into payments linked to the Presidential campaign began on 9 May 2016 and are still continuing.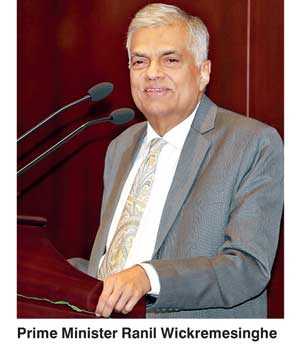 Wickremesinghe also rejected recent media reports that the investigations had been halted and insisted there was no truth to the claims that the Central Bank had stopped an investigation into cheques issued to Standard Chartered Bank by China Harbour Corporation Ltd.
Updating the UNF Parliamentary Group on the investigations, Wickremesinghe had said from 1 December 2014 to 8 January 2015, Rs. 1.3 billion had been transferred through 82 cheques and given to former Presidential Secretariat staff, the Prime Minister's Office said in the statement.
"The cheques issued by China Harbour are included in this amount. The Police Special Investigations Unit has sent the files to the Attorney General's Department. Further investigations are continuing under the direct supervision of Deputy Solicitor General Yasantha Kodagoda. At no point have the investigations been suspended," the statement quoted the Prime Minister as having said.
"In 2015, the Central Bank requested an investigation and sent a Standard Chartered cheque to the Criminal Investigation Department (CID). The CID is still conducting investigations. They have received some evidence and other information is still pending. But, investigations have not stopped," Wickremesinghe had said, according to the statement.
"When I met with the IGP and the Deputy IGP as well as other officials, they insisted that no investigations have been suspended. There have also been no requests by the Central Bank to stop investigations, which is impossible in any case because the investigations are not under them. All details were given to me and I was assured that investigations are continuing."
Several reports had alleged that the payments were made by a State-run Chinese company operating in Sri Lanka to former President Mahinda Rajapaksa's campaign. Information of the investigation was initially released after the new Government came into power, and was revisited in a New York Times article earlier this month, which has been widely circulated, prompting fresh public attention.