Latest addition to the Fairway Colombo events – Street Latin Night!
Fairway Colombo brought about yet another impressive addition to their series of street events with the introduction of Street Latin Night, the first of which took place on Tuesday 12th June at Hospital Street, Colombo 01.
Leading the inaugural event was Sri Lanka's own Kasun Dias – founder and principal teacher of Star Latino's Dance Academy. The dancers took to the streets with renditions of Salsa, Bachata and Kizomba, grooving and moving to the Latin music beats.
The special guest for the night, Nelson Campos is the first internationally acclaimed Kizomba teacher/dance artist to visit Sri Lanka. Known as the Kizomba guru, Nelson is the teacher of teachers, the driving force behind many successful Kizomba teachers and dancers in Asia and around the world. He is visiting Sri Lanka to conduct a series of workshops and tantalized the guests with his tasteful and breathtaking foot-work on the very first evening of his stay.
A throng of onlookers gathered around to watch the dancers as well as join in the fun themselves. Regardless of being beginners or professional Latin dancers, guests simply got on their feet to have a fun filled evening, as Kasun led them through a few basic steps and got everyone dancing.
Street Latin Night is Fairway Colombo's latest addition to the Hospital Street events calendar, which comprises of the Colombo Street Food Festival, Art & Jazz on the Street, Jam on the Street, Fairway Cultural Show, and Vinyl Night. It will be a regular event taking place on the first Tuesday of every month in collaboration with the National Dancesport Federation of Sri Lanka.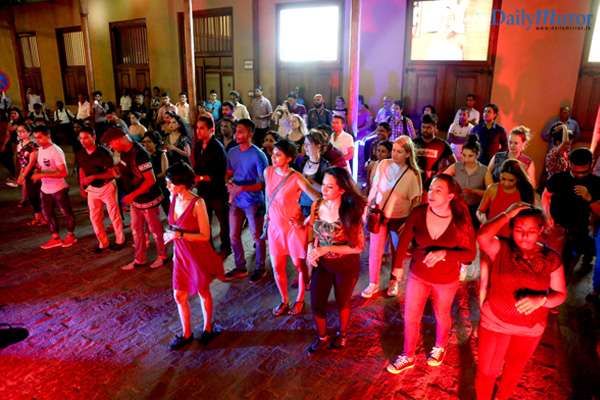 The concept of the street events came from the need to create a great location where people from various walkes of life could come together to celebrate different forms of art and culture. It deviates from the high-end, closed doors cultural events and makes it accessible to everyone by bringing it out in to the streets. The Fairway Colombo Hospital Street events have become equally popular among the locals and foreigners alike. Another unique feature is that all of these events require no entrance fee or cover charge.
Fairway Colombo is a subsidiary of Fairway Holdings, which supports local arts and culture through numerous initiatives.