Softlogic Holdings pre-tax profit soars by 130% to Rs. 3.4 b in FY18
To foray into supermarket biz as part of vision to become largest retailer in Sri Lanka
Softlogic Holdings Plc has witnessed a massive 130% rise in pre-tax profit to Rs. 3.4 billion in FY18 whilst improving revenue by 12% to Rs. 66 billion.
The full-year results were aided by a strong 4Q, with PBT reaching Rs. 1 billion as against a loss before tax of Rs. 4.6 million reported in 4QFY17.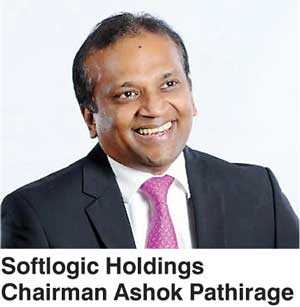 Consolidated after-tax profit more than doubled to Rs. 2.6 billion in FY18 and by threefold to Rs. 643.6 million in 4Q as per interim accounts released on Friday.
Consolidated turnover for FY2017/18 reached Rs. 66 billion, registering a growth of 12.2% from last year. The quarterly Group revenue witnessed an 18.1% growth to Rs. 17 billion. The key contributors to Group turnover for the year were Retail (32% contribution), ICT (26%), Healthcare Services (18%) and Financial Services (17%) followed by the non-core sectors — automotive and leisure.
Gross Profit for the year improved 21.3% to Rs. 23.6 billion while registering a GP margin growth from 33.1% in FY17 to 35.8% in FY18. Quarterly Gross Profit also increased 17.9% to Rs. 6 billion.
"Stronger bargaining power, inroads made into new market segments, and stringent cost-discipline assisted in improving the GP margins," said Softlogic Holdings Chairman Ashok Pathirage.
Group EBITDA reached Rs. 11.3 billion (up 57.6%) during the year while quarterly EBITDA grew 52.1% to Rs. 2.1 billion.
Operating profit for the year increased by a strong 68.5% to Rs. 8.6 billion reflecting an operating profit margin improvement from 8.7% in FY17 to 13.1% in FY18. The quarterly operating profit also increased 75.9% to Rs. 1.4 billion, to witness a margin improvement to 8.6% in FY18 from 5.8% in FY17.
Pathirage said prior to the conclusion of the financial year, Softlogic was successful in partnering Samena Capital, a Middle Eastern investor, to garner a private placement followed by a rights issue which saw an equity infusion of Rs. 7 billion.
"The twin benefit for the Group will be the saving to be made on financial costs by the corresponding reduction in debt and the strengthening of key capital ratios with the enviable effect of improving the overall gearing position," he said.
"The private placement and the rights issue were priced above market value since shareholders and investors no doubt recognized that the Group is inherently more valuable than market sentiments," the Chairman added.
He also said there are other equity plans in the pipeline for the core verticals, and with this in mind, the Group will make its footprint across its various businesses to become unrivaled in the industry.
"As we champion the retail sector, investments in supermarkets become a natural choice since customers could use the retail network to spend and burn points using a single loyalty scheme. We have a vision to become the largest retailer in Sri Lanka – being in the right sectors with the right products, with the right price and with those investments being made at the right time," Pathirage emphasized.