Union Bank 1Q18 net up on higher margins
Despite the higher sour loans and stalled credit growth due to higher interest rates, Union Bank of Colombo PLC (UBC) managed to improve its margins and report higher profits for the January-March quarter (1Q18) compared to the corresponding period of the previous year.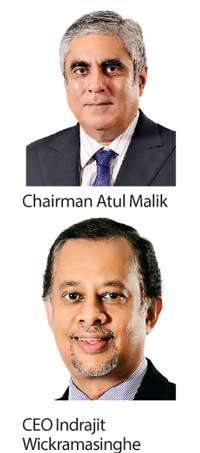 Becoming the first bank to release the interim accounts for the 1Q18 period, UBC reported earnings of 13 cents a share or Rs.141.4 million for the three months, up 31 percent from a year earlier.
The net interest income for the period was Rs.1.04 billion, 13 percent higher year-on-year (YoY).
The lender with an asset base of little under Rs.115 billion saw its loan book remaining at Rs.71.8 billion – virtually the same loan book the bank had by
end-2017.
The static loan book indicates moderation in the private sector loans during the first quarter.
According to the Central Bank data, Sri Lanka's private sector loan growth slowed down to 14.6 percent in February from 15.2 percent in January and 14.7 percent in December 2017.
In an absolute basis, the banking sector in total granted new loans of Rs.41 billion in January and Rs.59 billion in February – a significant slowdown from an average of Rs.54 billion growth in new loans a month in 2016.  The bank appears to have repriced its existing loans higher as the net interest margin has edged up to 2.92 percent from 2.87 percent in December 2017.
However, the sour loan portfolio leaped with the gross non-performing loan (NPL) ratio rising to 3.01 percent from 2.69 percent in December 2017.
Mirror Business exclusively reported that the banking sector asset quality as a whole weakened during the first two months in 2018, as the reported gross NPL ratio rose to 3.0 percent by end-February – the highest since 2015.
UBC could have softened the impact on the asset quality had it been able to grow its loan book.
Meanwhile, the bank saw its deposit portfolio narrowing by about Rs.1.29 billion, due to the contraction in the rupee savings deposits and foreign currency term deposits during the period.
By end-March 2018, the bank remains capital rich with both its Tier I and Tier II capital ratios remaining well above the minimum required under the BASEL III accord.
Culture Financial Holdings Limited, an affiliate of TPG, a US-based leading private investment fund, holds a 70 percent stake in UBC.
The bank's share witnessed a price rally in the market during the latter part of last week and early part of this week on buyout/merger speculations.