Dilruwan — living his father's dream
When his father met with a tragic death at a dinner organized to mark Panadura Sports Club's promotion to division I, Dilruwan Perera, then a 15-year-old cricketer, felt his world crashing down on him.
Dilruwan had just helped the team win the Division II title and also attended the celebratory function organized by the club. But jubilation quickly turned into a family tragedy when his father drowned in the swimming pool. While it was heartbreaking, the boy vowed to live his father's dream for him and become a national cricketer.
"It was a huge loss and an unexpected one for me," Dilruwan said this week, sitting down for a chat at Colts. "He was my strength and to lose him was devastating. But it was then that I decided to take up the game seriously. When I look back, I think I have fulfilled his dream."
Today he is a national cricketer and the country's first choice off-spinner in the Test side. More importantly, he is the first Sri Lankan cricketer to score 7000 runs and take 700 first class wickets.
Chaminda Vaas, who represented the same club (Colts) had previously picked up 700 wickets and 6000 plus runs.
"I knew the record was within my sight," Dilruwan said, while his team mates at Colts trained ahead of their first class fixture. "Vaas had it before me and to surpass his record was a great achievement."
Dilruwan was initially a wicket-keeper bat, then an off-spinner and subsequently an opening batsman before settling down to full-time bowling off-spins.
He made his international debut as an opener, playing alongside Sanath Jayasuriya in the fifth and final match of a five-match ODI series against England in 2007. He scored a vital 30 runs which was good enough to consider him for the country's next tour in Australia–VB series.
"Before the series, I had few outings with the Sri Lanka A side in England," he said. "On the instruction of Chandika Hathurusingha, then Sri Lanka A coach, I opened batting for the team and did quite well. I guess this was why I was considered as an opener, even when we had two other specialist openers in Upul Tharanga and TM Dilshan, to partner Sanath Jayasuriya in the side."
But his next three limited-over innings during the VB series (1,5 and 
 in Australia did not impress the selectors and for three years after that he did not see a glimpse of the national team. He was once again recalled to the national T20 side as an off-spinner in 2011. But after just three matches, he was given a long break before returning to the Test side in 2014.
"When I was dropped from the side in 2008, I realised it would be hard for me to come back to the side as a batsman," he explained. "Murali aiya (Muttiah Muralidaran) was at the tail end of his career and I saw an opportunity of getting into the side as an off-spinner. This is when I decided to concentrate on my bowling."
Even though he was picked as specialist spinner alongside Rangana Herath, it was with the bat that he made his first impression. Dilruwan missed a great opportunity to become the first Sri Lankan to score a century on debut outside of Sri Lanka, something he regrets even to date. He was out for 95–the highest first innings score for Sri Lanka–in the match against Pakistan in Sharjah.
"It was really disappointing to miss out on a debut ton," he said. "I was really disappointed with the shot I played. To be honest, I was in two minds at that time whether to go for a single or a boundary. This was where I made the mistake. I think the spur of the moment carried me away. I was upset for a couple of days for missing that important milestone."
Since then Dilruwan has been Sri Lanka's number two Test spinner behind Rangana Herath–the current leading left-arm wicket taker–and together they have led Sri Lanka to many a great victory. He became the fastest Sri Lankan to reach 50 wickets and also 100 wickets.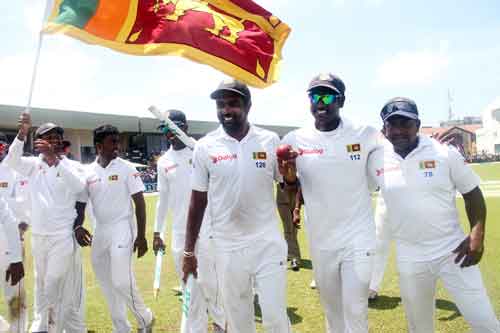 In 2016, he claimed a piece of history when he led Sri Lanka to crushing series win over the then number-one ranked Australia in Galle as Sri Lanka recorded a 3-0 win over Australia. He picked up 10 wickets for 99 runs in that match, including six in the second innings, to become the first Sri Lankan cricketer to take ten wickets and score a half century. He made 64 in the second innings to put the team firmly in control.
Dilruwan, however, feels he could contribute more with the bat.
"As a bowler I have done a good job for the team but, as a batsman, I feel I can do more," he reflected. "If look at the batsmen of other countries at number eight and nine, they now contribute lot more with the bat. It is really important that tail-enders contribute with the bat. So I am working hard on my batting, staying longer in the nets. If you look at my last few matches, I have done quite well as a batsman."
"In Test cricket, we usually go with seven specialist batsmen and four bowlers. So there's a good chance of someone batting at number eight and nine putting up good partnerships. As a bowling unit, we want to add at least 100 runs to the team total and this is something we are working on consistently with batting coaches."
At 35, Dilruwan has no big plans but he does want to get to 200 wickets before he hangs up his boots.
"I am 35 now and I do not want to look too far ahead at this point in time," he said. "But I like to get 200 Test wickets. I know it all depends on my fitness and performance."