Sri Lanka's tea industry is eyeing a smooth ride in 2018 after earning $1.53 billion last year, but is trying to put the lull in its troubles to good use by rolling out the long delayed Rs.6 billion global marketing program in the first quarter, establishing a monitoring agency for Regional Plantation Companies (RPCs) and encouraging replanting.
In 2017, tea crop rose 5% from 292 million kilos to 307 million kilos. On average, auction prices reached $4.07 per kilo in 2017 as against $3.19 per kilo during 2016, which was markedly higher than the prices fetched at tea auctions in Chittagong, Kolkata and Mombasa, Tea Board statistics showed.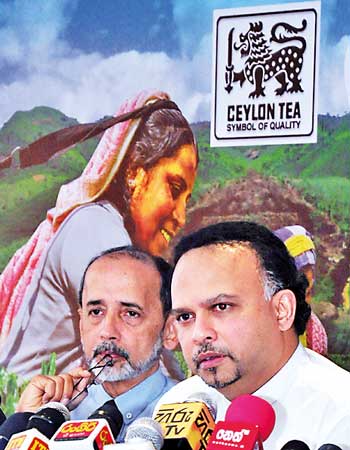 Exports were 289 million kilo and average price was Rs.807.44 per kilo. Total exports during 2017 showed a marginal increase of 213,587 kilos over 2016.
"A lot of people said the tea industry was going to stagnate and die but the figures prove otherwise. Statistics, they can say, are lies, utter lies or damn lies but these cannot be disputed. I'm very happy to note the 5% increase in production and I'm tremendously encouraged about the increase in price. Now we have to concentrate on quality and cleanliness in the next year," said Plantation Industries Minister Navin Dissanayake, summing up last year's performance.
The Minister was upbeat regarding 2018 prospects, provided the weather gods remain kind, with the industry hoping to reach a 2014 high of $1.63 billion this year. He also praised the tea industry for remaining strong despite weather and other challenges, without subsidies or other hand-outs from the Government. "We have to get the processors right. We have to get a monitoring system for RPCs and we have to get the replanting done properly. Quality, quality, quality is my focus," he said.
Dissanayake was also confident that upcoming salary negotiations with labour unions, which usually result in a standoff between plantation owners and unions, could be navigated seamlessly as tea prices are likely to stay high, provided talks begin about three months early. The Collective Agreement is due to expire around November, and negotiations have been known to take more than a year before an agreement is hashed out, with work stoppages a common result of the stalemate between unions and RPCs.
The Minister also wants to appoint a monitoring agency for RPCs to establish a framework of minimum guidelines to improve performance. Dissanayake noted that even though some RPCs have made investments, others have fallen behind.
"A report on the performance of RPCs was formulated last year and handed over to the Prime Minister. In this report they were categorized as A, B or C. The companies that fell into the C category must progress. The Government as the golden shareholder has to work to protect the industry because if production falls there will be severe economic repercussions," Dissanayake said.
The Minister also acknowledged that he may need to take tough measures to tackle refuse tea or substandard tea that is coloured and mixed with good tea and exported. He insisted that this hurts the Ceylon Tea brand and as such should be wiped out as a practice. However, industry experts have pointed out that as little as 5% of Sri Lanka's tea is substandard.
Efforts to brush up Ceylon Tea credentials will get a new boost with the long-anticipated global marketing program to be rolled out in 12 countries "in the next two to three months." The Rs.6 billion fund would be used for a mix of promotional material including a strong social media campaign, said Tea Board Chairman Rohan Pethiyagoda, who was also present at the press briefing.
Russia, UAE, Japan, China, USA, Iran and Germany would be targeted as top priority while Turkey, Saudi Arabia, UK, Australia and India would be captured under the second tier. Phoenix Ogilvy has been appointed as the agency and the global campaign will be in addition to existing marketing in trade fairs and other forums by the Tea Board.
On the global stage, Turkey emerged as the largest buyer of Ceylon Tea with 35.4 million kilos followed by Iraq with 31.4 million kilos, Russia with 31 million kilos and Iran with 24.9 million kilos.Despite the temporary ban on Russian tea exports that hit Ceylon at the tail end of last year, Pethiyagoda insisted impact has been minimal in Russia and elsewhere. He also said the company responsible for the accidental larvae find would not be penalized, as the bug was not found in the tea but in the container, which did not originate from Sri Lanka.
"We believe this was a freak occurrence. We are grateful for the fast response of the Government, especially the efforts made by our Ambassador in Russia, which brought the situation under control in about a week. Containers are now being fumigated and this is something that Sri Lanka is doing voluntarily and was not demanded by Russia," Pethiyagoda said.
A four-member team of Russian quarantine officials are to arrive in Sri Lanka on 3 February and will liaison with the Sri Lanka National Plant Quarantine Department. "We do not foresee any issues," noted Pethiyagoda.