Pothas refuses to travel to Bangladesh
Nic Pothas who was Sri Lanka's interim head coach after Graham Ford stepped down in June has refused to travel to Bangladesh with the national team after Sri Lanka Cricket turned down his request to be appointed Assistant Coach of the national side.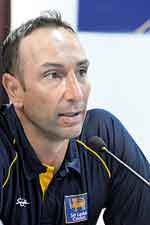 Instead he has preferred to work at the High Performance Center headed by Simon Willis as a fielding coach. Pothas was appointed as fielding coach of the national team in July 2016 for a two-year contract and was subsequently promoted to lead the side in the interim when Ford resigned following Sri Lanka's early exit at the Champions Trophy.
A former South African first class cricketer who has played just three ODIs for his motherland, however failed to impress his employee during his stint as head coach to take up the position on full-time and was replaced by Chandika Hathurusingha in December. Manoj Abeywickrema is in-charged of fielding at present.
Under Pothas Sri Lanka recorded a surprise Test series win against Pakistan in UAE (2-0). During his stint Sri Lanka lost a ODI series to Zimbabwe at home, lost (3-0 Test, 5-0 ODI and 1-0 T20) to India, suffered a ODI series defeat to Pakistan and three Tests, three ODIs and three T20Is to India.