Only 50 % of Sri Lanka has pipe- borne water supply
While 95 per cent of the country is supplied with electricity as of today, only 50 per cent of the country is benefitted with pipe-borne water from the National Water Supply and Drainage Board (NWSDB). The need for clean purified drinking water arises in small towns and villages in the outskirts of Colombo and people have faced enough difficulties and diseases due to drinking water from different, unhygienic sources.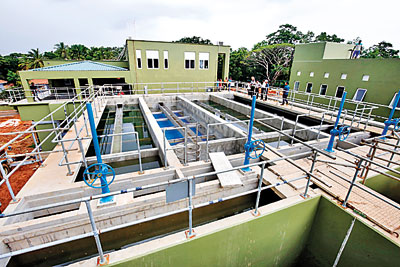 People living in urban cities believe that the days when villagers carried water in gallons from one place to another travelling for miles, is a bygone era.
Not so. This form of water transportation remains in some parts of the country where water from wells and tube wells are not safe anymore to drink. It's a kind of life that you either move out of the village into the city if you need purified water or find a way to drink clean water.
With the Asian Development Bank (ADB) funding 75 per cent and the Government of Sri Lanka (GOSL) funding the remaining 25 per cent, water treatment projects are carried out in various parts of the country to tackle the issue of providing clean drinking water.
Last month, ADB took the media on a four-day tour with the Business Times being a part of, to some of the projects that are completed and ongoing sites in Polonnaruwa, Anuradhapura, Mannar and Chilaw. The projects were all funded by the ADB together with the GOSL.
With US$125 million funding from ADB and $38 million from the GOSL, dry zone and urban water and sanitation projects are ongoing in the Puttlam, Chilaw, Vavuniya and Mannar districts. Urban water supply projects, sewage treatment plant, public toilets and domestic toilets for 1800 families are some of the key components of the project. Providing safe drinking water for 200,000 people and safe sanitation facilities for 9,000 people are benefits to the people.
For the secondary towns and rural community based water supply and sanitation project ADB has funded $260 million while the GOSL has provided $138 million and $3 million coming from community contribution. The project includes urban water supply for Batticaloa, Polonnaruwa, Muttur and Hambantota, community based rural water supply projects in Anuradhapura, Polonnaruwa and Batticaloa districts, sewerage treatment plant for Batticaloa Hospital and prison and household latrines for 30,000 families. 500,000 people were provided with safe drinking water while 93,000 people were provided safe sanitation facilities. The project was completed in 2014.