Tuk Tuks find the bucks, but lose customer affection
The three wheeler taxi business seems to be operating in a wild and uncontrollable manner

We have drivers who operate Tuk Tuks without an iota of knowledge about responsibility

Over 1.3 million Tuk Tuks take to the road in this taxi business, but just 10% of these vehicles is registered with a union
Tuks Tuks have become such a convenient mode of transport that customers have learned to be comfortable with uncomfortable situations when obtaining the services of these taxis.
Aggressive driving on the roads, swearing and sometimes a touch of recklessness thrown into the ride makes customers think whether this industry needs a proper monitoring system.
Tuk Tuk commuters weren't really over the moon when the Government announced yet again that all three wheeler taxis have to comply with the regulation introduced by the Transport Ministry to display details of the taxi service on the vehicle. Just a month ago we also heard the news that the Government would make it compulsory for three wheeled taxis to install a meter.
Despite all these efforts the three wheeler taxi business seems to be operating in a wild and uncontrollable manner. In a way the easy path that a person can take to become a driver of a three wheeler taxi should remain unchanged. Everyone can't become academics nor doctors. As much as business establishments connected to the medical profession need patients, the companies that manufacture these Tuk Tuks wish to see enough drivers who are willing to take to this profession.
However, the problem seems to be that we have drivers who operate Tuk Tuks without an iota of knowledge about responsibility, courtesy and even ethics that govern good driving.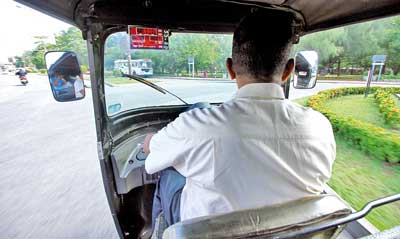 In the chaos of our daily lives and during the errands that we run on, we might come across cultured drivers who make the Tuk Tuk ride so pleasant. This dearth of good three wheeler taxi drivers is perhaps one reason why someone took the effort to put the post titled 'The ultimate Tuk Tuk survival guide in Sri Lanka' on the internet. In the article the writer suggests commuters to inquire whether there is a meter, agree on a price in the absence of a meter, inquire from locals about the going rate for hires and if the driver is good save his number.
For the record over 1.3 million Tuk Tuks take to the road in this taxi business, but just 10% of these vehicles is registered with a union. To the disadvantage of Tuk Tuk drivers there are far too many associations that are trying to regulate the three wheeler taxi industry. But the truth that lies beneath their efforts indicates that all this amounts to a power struggle between existing three wheeler associations. The public will still vouch for the fact that an association that can take full responsibility if a customer is dissatisfied is yet to be established.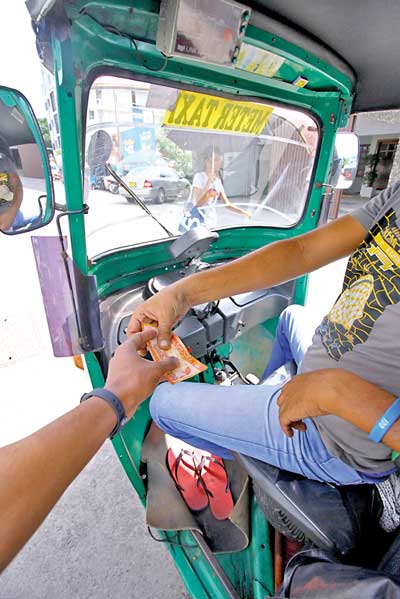 Three wheeler taxis came into being about 38 years ago. People welcomed their arrival because the hiring cars that operated before that charged customers excessively. People started moving faster to their destinations. They also saw their expenses incurred regarding such travels dropping by more than half with the advent of three wheeler taxis.
As the Tuk Tuks offering taxi service mushroomed, and following complaints by customers, who were charged excessively, the meter was introduced to this business in 2005. Voices of descent echoed, being a Sri Lanan habit. The islanders have this habit of kicking against any law or regulation that's introduced to ensure there is order in a business or in the day to lives of the people.
The drivers who love change and can adopt to change installed meters and saw their hires boom. More private companies acquired existing Tuk Tuks or bought new ones. In no time obtaining the services of a three wheeler taxi could be done with a mere call or the click of a few buttons on ones' mobile phone. Contrary to the grumbling three wheeler taxi drivers we now have well-dressed drivers arriving in Tuk Tuks to take us to our destinations.
While most companies offering this taxi service have registered networks and operate with the aid of apps via sms alerts, there are others who thought beyond. Some businessman, inclined towards promoting tourism and making money through this industry, refurbished their three wheeler taxis with retro fitted convertibles and offered Tuk Tuk Safaris. Customers were offered bottles of water, snacks, tissue and our very own king coconuts to keep them happy and make their journeys in the Tuk Tuks memorable. Most importantly the owner of this service, during a newspaper interview, highlighted not the luxuries this service offers, but something it lacks. "Though our drivers might not speak a foreign language they make up for it with a friendly attitude," were his positive words. In this context it seems a good time to recall an old Chinese proverb 'A man without a smile on his face should never open a shop'. Even if it is a taxi service, compromises should never be made regarding customer satisfaction.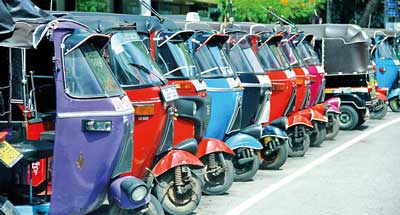 In present times the Western Province Road Passenger Transport Authority reenacting Gazette Notification of 2013 (1834/27) mandates all Tuk Tuks to use a meter. Those who obtained a meter will receive a permit which can be renewed annually.
All these regulations will also bid goodbye to the old camaraderie which once existed between three wheeler driver and customer. We have heard of tales from the past when three wheeler drivers gave hires for free when they knew that a regular customer was stranded on the road without finances. There have also been times when three wheeler drivers have come to the rescue of customers, who got mugged, just after disembarking from the Tuk Tuk.
This is because three wheeler drivers were alert and had time to kill after finishing a hire. The rat race that exists after all these regulations and the booming Tuk Tuk taxi business might make drivers behave like robots or programmed individuals, even going to the extent of being heartless and thoughtless. If this is where the rest of the world is heading, making the Tuk Tuk driver stop and consider to retain some of his humane qualities looks impossible now. This is because the taste of money is so addictive.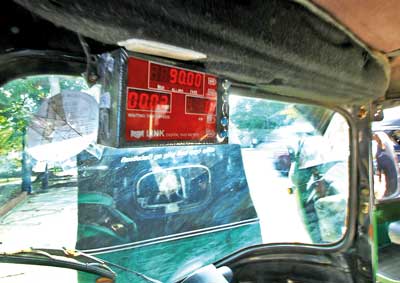 The Gune 'Ayyas' and Sumane 'Ayyas' might hang up the keys of their three wheeler taxis and take to some others profession because they can't adopt to the digital revolutions in the taxi business. But it must be noted with interest how one IT professional from Sri Lanka, who was employed in America, told this newspaper that his visiting card contained details of him being a Uber taxi driver. The IT professional affirmed that driving a taxi in the US wasn't considered as a second class job and that this occupation was pursued by many undergraduates to earn some extra money.
It was raining heavily the other day and this writer had taken shelter under the cover of a bus halt when a three wheeler taxi pulled over. A stout lady (Seemingly a Muslim) disembarked and paid the driver, who in turn blessed the lady by saying Budu Saranai (May the tripple Gem Bless you). The driver even told the customer not to get wet in the rain. This kind of talk might soon be 'lost language' and be out of use like the old hiring cars!