Prisoners get a full day to spend with loved ones
We know life consists of both joy and sorrow. Our joy enhances when we spend time with our loved ones. Although it is so, everybody doesn't get that precious opportunity to be so close to his or her loved ones every day. That's because either they are far away from their loved ones in terms of distance or where the hearts are concerned. If someone, whom you love the most, isn't close to you, you feel isolated or lonely.
Prisoners, who are branded as criminals, live a life of misery and anxiety. The focus of this story is on the prisoners who have been sentenced to death. They once made a grievous mistake in their lives, hence they were dragged into a wretched cell, a place where they have to live until their life ends. They surely regret what they have done, but their fate doesn't allow them to put their lives in order. If anybody can do something, which would at least give them relief or bring a smile to the faces of those inmates, that's indeed praiseworthy.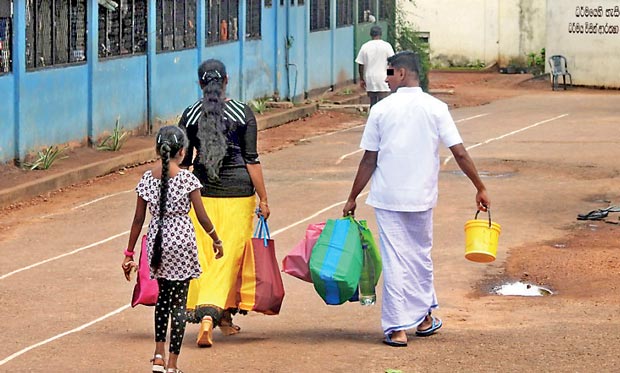 We got to know of an event titled 'Family Gathering' which was organized in the Welikada Prison with the special permission of Commissioner General of Prison Nishan Dansinghe and the acknowledgment of the Superintendent of the Welikada Prison Chandana Ekanayake.
Ekanayake told the Daily Mirror that according to the prison law, life term prisoners get only a few minutes per month to meet with their family members, but despite such an opportunity, most family members don't use this time provided to them stating that this is insufficient. Therefore, a golden opportunity was given to 500 life term prisoners on September 10, to mark the Prisoners' Day, so that family members could spend a day with prisoners and participate in a celebration.
"Those who were very much rude and aggressive have now become really serene and polite as a result of the effective rehabilitation process in the Prison. It was really sensitive and pitiful to see how children were being fondled by their fathers and mothers, who have been sentenced to death. A tear came to my eye when I saw how they were sharing a meal with their loved ones," Ekanayake said.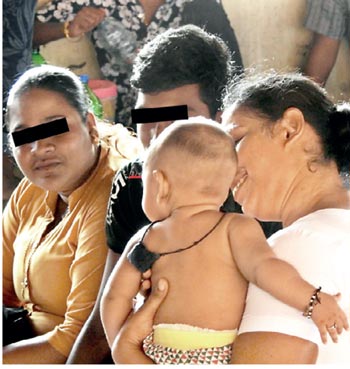 A prosoner's wife said that her husband had been in Welikada Prison for 18 years and she and her kids were delighted to have time with him. She added that she was absolutely thankful to the officials of the prison for organizing an event like this.
"When my husband was imprisoned, the kids were too small, but now when he looked at them, they have grown up well. He told me that he was unfortunate not to see how his kids grow up. My two kids have told me that they would not get married until their father is released. I hope my husband would return after being released one day and continue the same life we had before," she said.
It is actually heartbreaking to hear such a statement from a courageous wife who really fathoms the reality of life.
The superintendent said that he was rather astonished by the way  mothers, fathers, children and other relatives approached inmates without hating or mocking at them.
It was lovely to see how one prisoner was resting his head on his mother's lap. This scene just underscored how much a mother loves a son.
She told that she had done all the hard work to bring up her son after the demise of her husband. However she said, while sobbing, that she could not prevent him from ending up where he is today.
"We are extremely destitute sir. My husband was killed by his enemies when my son was an infant. Thereafter, I had to bear up all the sufferings and live with my son. One day when he came to know the slayers of his father, he wanted to take revenge on them in the same manner in which his father was slain. Then, he ended up behind bars," the mother related a shocking story.
She said that she hoped her son would return to her before she would close her eyes. She said that this was her last wish.
"Although death is inevitable, events like these can be prevented if we use our brains. What matters is patience and courage. We have to be wise when taking certain decisions in our lives. Otherwise we will have to face similar situations like these," Ekanayake said.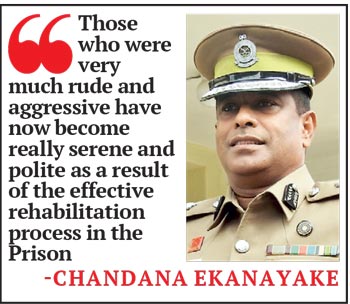 There was a Ukraine woman who has been sentenced to death. Family members and her Sri Lankan friends had come to visit her. It was obvious that her friends and own family members from Ukraine have not abandoned her. That's wonderful.
A woman was seen embracing her son. Her melancholic face revealed the agony she was experiencing.
The woman asked, "Does father take care for you my son?".
The son said, "Yes. He is the one who gave me money to see you. That's how I bought food for you".
The woman said, "Does father come to see me son?".
The son said, "My step-mother doesn't allow father to see you although he wishes to".
The woman said, "That doesn't matter. Tell father that I am not at enmity with him. Have a good life with your father and step-mother. Theruwan Saranai".
That was a dialogue between a son and his mother, who is in jail for life. There is no need to exaggerate on the life she is living in prison. We heard that she was cursing herself saying that she is a sinner. Then we also noticed how her son consoled her by saying "I will never desert and forget you. You are my angel."
This writer feels that readers must be thinking of how unfortunate they (Prisoners) are to come to such a depressing state. Nevertheless, we noticed that the family members of those inmates didn't utter a single word which would discourage or afflict them. It is noteworthy that the love and affection of parents, wives, husbands and children of these inmates towards them have remained unchanged.
When my husband was imprisoned, the kids were too small, but now when he looked at them, they have grown up well. He told me that he was unfortunate not to see how his kids grow up
We are extremely destitute sir. My husband was killed by his enemies when my son was an infant. Thereafter, I had to bear up all the sufferings and live with my son. One day when he came to know the slayers of his father, he wanted to take revenge on them in the same manner in which his father was slain