Malinga refusing to pack his bags
If I go, I will go on my own and not because someone else is putting pressure
Is it the end of international cricket for Lasith Malinga? On Wednesday, Sri Lanka Cricket (SLC) selectors announced a 15-man squad for the five-match ODI series against Pakistan starting October 13 but Malinga, a veteran of 204 ODI matches did not find a place.
There's all possibility that he will not be considered for selection for the 50-over game in the future as he is reportedly not in Sri Lanka's plan for the 2019 World Cup but the 34-year-old is likely to retain a place in the shorter format—the T20.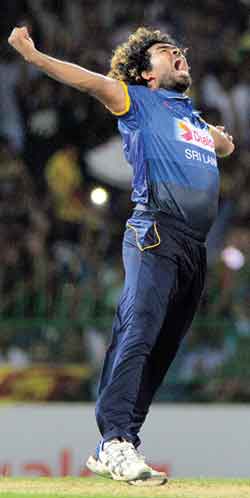 But Malinga, who has already retired from the longer format due to a recurring knee injury, has no plans to hang up his boots anytime soon.
"If I go, I will go on my own and not because someone else is putting pressure on me," he said, when asked whether it's the end of the road for him. "I want to play till 2020—the 2019 World Cup and the 2020 T20 World Cup—and I will keep performing whenever I get an opportunity, be it domestic or international cricket. That's the only thing I can control and I know if I perform well, I will be in the team."
Since his return from a long injury lay-off, Malinga has largely been a diminishing force, averaging 62.30 in 13 matches. He has picked up only 10 wickets during the same period—a far cry from a man who has inflicted fear on opposing batsmen with subtle variations in his bowling. His greatest weapon, though, has been the yorkers which the batsmen found increasing difficult to cope with.
"Obviously, I am disappointed with my own performance more than anyone else. But they need to understand that I am coming after an injury—a serious injury which threatened my career several times. I have played through pain and continue to don the national jersey for well over 14-years now," he said. "People have forgotten all what I've done during those 14 years and talk of my performances in the recent series."
His recent record would have been different, had the catches off his bowling been taken. He says fielders have dropped as many as 14 catches off his bowling since his return to the side.
Malinga made his debut in 2004 against UAE at Dambulla and since then has been one of the key figures in the Sri Lankan side. He was the first man in the history of the game to pick four wickets in successive balls when he took Sri Lanka to the brink of victory against South Africa in the 2007 World Cup. He also has two more hat-tricks against Australia and Kenya, the only cricketer to achieve the feat, and was the bowling spearhead in Sri Lanka's excellent run in global tournaments from 2007-2014.
Malinga led the national team to victory at the 2014 World T20 tournament, the country's second global silverware after the 1996 World Cup victory. With his knee injury threatening his career, Malinga retired from Test cricket at the age of 27 in 2011 but continued to impress in limited-over games until a recurrence of the injury forced him into another long break.
"I don't think anyone understands how serious my injury was," he said. "I have played through pain for my country and, just because I had a bad series against India, now I am not good enough to be in the side. If the selections were done on current form, I don't think there would have been any player left in the side by now. I will keep working hard to earn my place in the side.
Though, Malinga's axing has much to do with his performance, some say he was a "bad" influence on the other players in the side—something which may have worked on selectors' minds when finalising the squad. But Malinga says he has only been a good influence on the players.
"I didn't go to a big school in Colombo, nor had any influence from anyone. But I worked hard to be the cricketer I am today. This helped me to win respect from fans and also from some players within the team. Is that what they call a bad influence?" he asked.
Malinga was recently in trouble after criticising the country's Sports Minister after the latter questioned the fitness of players. At a subsequent brain-storming session, he highlighted some of the key issues which he believes had contributed to the slide of the national team.