The Government has no control and authority over the functioning of the State 
Society is made to believe the Government messing up everything Right Royally 
Uprooted from social life and being blind to what people need as "development" this Government has not been able to deliver on any of the promises it made in two consecutive elections within a year. 
JO claims it would reduce the Government to less than two-thirds (majority) in Parliament that would stall its Constitutional making process. 
Economy is nothing the Government can boast about. 
This Government has no alternative to the Rajapaksa economic model with further liberalising of the market, depending very much on Chinese projects brought by Rajapaksa. 
This Government thus is more like the Meethotamulla solid waste dump that came tumbling down, but still remains a waste dump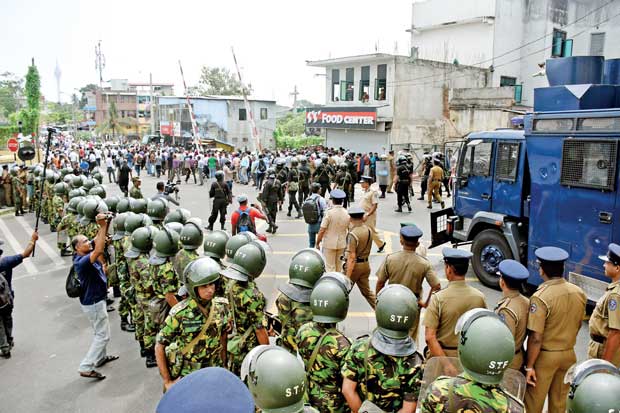 CPC strike: The trade union action was not about workers' demands
Thirty four years ago on 24 July 1983, a Sunday that triggered an organised pogrom against Tamil people and set Colombo and its suburbs on fire the next morning, Senior Thondaman Saumyamoorthi was to tell a then Madras audience that in Sri Lanka, "It is Sunday Sil. Monday kill".

While most moderate, peace loving citizens and their organisations in Colombo observed this day as "Black July", the present "Yahapalana" Government is harping but not working towards much needed "reconciliation".

They are instead being willingly dragged into one crisis after another on a Sinhala Buddhist platform within just 30 months of them being heralded to power on what was proudly called a "Rainbow Revolution".

On this very day the peace loving citizens in Colombo remembered "Black July" this year, the DM Online edition carried news items with captions, (01) "Petroleum trade unions to strike from midnight today" (02) "Law and order collapses in Jaffna – Ganesan" (03) "Power failures in several areas" (04) "GMOA to stop work from 08.00 a.m tomorrow" (05) "Aloysius told to handover mobile phones to CID" (06) "President directs IGP to strengthen security of judges".

Elsewhere in media, the Police Spokesman admitted the white van used in the alleged abduction attempt of medical faculty student activist belongs to the Colombo Crimes Division and said the Police need not necessarily be in uniform to make an arrest.

At another occasion he blotched up the shooting at the Jaffna High Court Judge's convoy saying the Judge was not targeted and the man who shot at the Judge's convoy was a drunkard.

Canadian PM has once again stressed the need for Sri Lankan Government to be 'accountable', while Corbyn, the new Labour Leader wants the British Government to redefine diplomacy with Sri Lanka to stress on conditions agreed upon in the co-sponsored UNHRC Resolution.

Two visiting UN Rapporteurs had nothing good to say about Sri Lanka but hard words. For the first time a State agency was involved, "Sathosa" rice imports were said to have had a massive load of cocaine that provoked Rajapaksa to ask, who the king of cocaine is now.

Added were news reports in the past two weeks about conflicts within the two ruling parties and their affiliates. UNP high command had instructed its Ministers, MPs and electoral organisers to refrain from criticising the SLFP in public.

JO claims it would reduce the Government to less than two-thirds (majority) in Parliament that would stall its Constitution-making process.

Economy is nothing the Government can boast about.

This Government has no alternative to the Rajapaksa economic model with further liberalising of the market, depending very much on Chinese projects brought by Rajapaksa.

While talking of per capita income, GDP, more exports to EU with its GSP 'Plus' and a plethora of FTAs signed with numerous countries, the majority 70 per cent rural folk remain outside the heavily urbanised and unceasingly liberalised market with growing inequality in income and wealth distribution.

President not long ago was quoted in media as having said, people who watch TV are made to feel there is no Government in this country. Said in a resenting tone about news reporting, it also holds him responsible for such failure as the head of State with PM constitutionally defined as Head of Government.

Any and all that breaks down in Governance, is his responsibility too though the Government is led by the UNP.

This Government thus is more like the Meethotamulla solid waste dump that came tumbling down, but still remains a waste dump.

It remains with issues unsolved and without answers. The Government gets dragged along, unable to make decisions in sorting out the chaos, the people are fed on a daily basis.

SAITM is one such putrefying crisis. It should have been sorted out 07 months ago in December last year, or even before had the government decided on what they would do with it.

Health Minister could have easily told the SLMC to remain as the regulatory body it is constituted and mandated for and leave policy making to the Government for which purpose the people elected a government for.

So is the issue of urban solid waste disposal. Over the past two years, this Government was asking for trouble, when it avoided providing answers to the Meethotamulla waste dump, the people were agitated against.

The Government evaded discussions with people in finding a reasonable answer and allowed the police to resort to judicial orders in banning people's protests. That incompetency of the government was the result of the Meethotamulla tragedy and it still remains unsolved.

Then came the alleged 'white van' abduction of the Convenor of the Joint Medical Students' Federation on 20 July at the OPA premises. Minister in Charge of Law and Order has told GMOA representatives, he nor the Government has anything to do with it. While that says much about how the Police decide on what they do, it also says this Government has failed in disciplining the Police as a civil department.

All such incidents and the general life in public service goes to prove this Government has absolutely no control and authority over the functioning of the State.

They have not been able to tighten their hold in the governing process. To take hold of the State with authority, a government needs a plan of action for State reforms and for the economy including for major areas like education, health, transport and in today's Sri Lankan context, for environment too.

It is the total lack of any of it that has left the government wholly limited to the Colombo urban life. Wickremesinghe Government's obsession with market liberalisation does not make them relevant as a Government to any outside the urban middle class and the money minting crony businessmen funding their social life and status.

Uprooted from social life and being blind to what people need as "development" this Government has not been able to deliver on any of the promises it made in two consecutive elections within a year.
Everything bad and ugly the people wanted removed, still remain with a "Yahapalana" image and its label. In such context, it has been easy for Rajapaksa to encroach into public life once again.  With almost 60 years of active politics (was appointed Beliatte SLFP Organiser in 1968 November) behind him, he is far more street smart than any politician with any record in politics.

Having proved he owns the SLFP vote bloc almost en masse, he seems to have left Parliament manipulations with the JO leaders and turned to his favourite game of playing advocacy politics.
The SAITM campaign on the streets is no trade union campaign. It is not about "free education" either. Slogan for safeguarding "free education" and the demand for "abolition of SAITM" are completely incompatible slogans.

But the two together have allowed the marginalised rural polity to be dragged into agitations as parents of students who would be deprived of their only social opportunity in earning a future.  Dragging the campaign along bringing universities to a virtual closure and without allowing a possibility for serious negotiations has resulted in projecting the government both as incompetent and as very repressive.

Next came the petroleum workers' strike over oil tanks in the Hambantota port. Again, the trade union action was not about workers' demands.

What do all these conflicts and disruption of daily life, leave in the social mind?
In plain language, society is made to believe this Government is messing up everything "Right Royally".

It goes to say the 2015 January change had been to an administration that is far too inferior to that of Rajapaksa. The old belief it is the UNP that always resurrect the economy the SLFP ruins has been proved otherwise by this "Royal" team of economic managers. They've lost whatever credibility they had pre-2015 January, while Rajapaksa is fast regaining his lost credibility.

"De-stabilising society" is the name of the game, even anti Rajapaksa campaigners have this time got
dragged into.