Universal medical science: A blessing for curing multiple diseases: Rajitha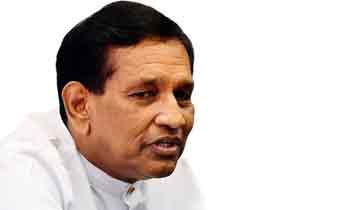 If we could continue all the medical experiments in all the medical sciences, it would help to fill up all the loopholes by adding them to one, and that could be the result of creating of the Universal Medical Science which would be to cure all the diseases, Health and indigenous Minister Dr. Rajitha Senarathne said.
Addressing an appreciation ceremony at the Sri Lanka Ayurvedic Drugs Corporation for its achievement of gaining profit of Rs.3.5 billion for this year, he said if appropriate medicine experiments would be conducted to Ayurvedic medicine it would help to make Universal Medical Science.
Several steps have been taken to develop Ayurvedic medicine. "The Ministry had decided to convert the written language of the 'palm leaf manuscripts' to understandable local languages. Therefore doctors could gain more knowledge by reading those books. Accordingly, about 600 palm leaf manuscripts had been brought to the Ayurvedic Drugs Corporation at Navinna and began translating them," Dr. Senarathne said.
There was no pharmacopoeia in the Ayurvedic medicine but there is a British pharmacopoeia in western medicine. "In British pharmacopoeia, it had included all the details about the drugs in Western Medicine, but unfortunately there is no such pharmacopoeia in the Ayurvedic medicine," he said.
Therefore, the Ministry had started to build a pharmacopoeia in the Ayurvedic medicine. Making of the Ayurvedic pharmacopoeia was handed over to several professors. There is no proper Medical Council in the Ayurvedic Medicine and a proposal has been made today to form a new Medical Council. Likewise, the Ministry is to provide equal rights and standards to Ayurvedic Department similar to Health Department.
The Health Ministry has decided to call an International Medicine Conference at the end of November this year. If this conference would be held end of November this year was success, Sri Lanka would become the centre point of the Medical Science of Alternate Medical Colleges in the world.
"During the discussion, the topics of Lankan and Indian Ayurvedic medicine, German Homoeopathy, Korean medical technique etc will be discussed, and about 82 countries would be participating the event in order to discuss their own medicinal techniques.