Trump Jr. emails suggest he welcomed Russian help against Clinton
President Donald Trump's eldest son eagerly agreed last year to meet a woman he was told was a Russian government lawyer who might have damaging information about Democratic White House rival Hillary Clinton as part of Moscow's official support for his father, according to emails released on Tuesday.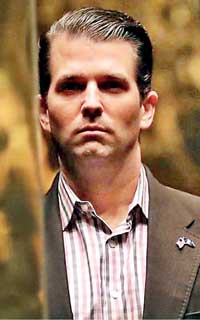 The emails, released by Donald Trump Jr., are the most concrete evidence yet that Trump campaign officials welcomed Russian help to win the election, a subject that has cast a cloud over Trump's presidency and spurred investigations by the Justice Department and Congress.
The messages show that the younger Trump was open to the prospect of "very high level and sensitive information" from a Russian attorney that a go-between described as "part of Russia and its government's support for Mr. Trump" ahead of a meeting on June 9, 2016.
"If it's what you say I love it," Trump Jr. responded.
He released the messages on Twitter after the New York Times said it planned to write about them and sought comment from him. In an interview with Fox News, Trump Jr. said that Trump's campaign manager at the time, Paul Manafort, and son-in-law Jared Kushner, now a top White House adviser, also attended the meeting with Russian lawyer Natalia Veselnitskaya, who denies having Kremlin ties.
He said Veselnitskaya did not provide any damaging information about Clinton at the meeting and instead sought to discuss
Russian sanctions.
"In retrospect, I probably would have done things a little differently," he said. "For me, this was opposition research."
Nevertheless, the correspondence between him and Rob Goldstone, a publicist who arranged the meeting, could provide fodder for U.S. investigators probing whether Trump's campaign colluded with the Kremlin.
REUTERS, 12th
JULY, 2017