A scramble for portfolios in the next government!
The big poll or the general poll is yet months away.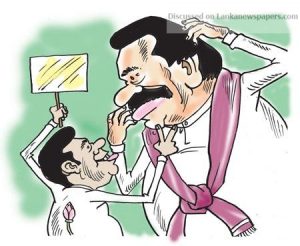 However, some Diyawanna politicos of Pohottuwa are already engaged in a scramble for portfolios in the next government they hope to form, they say.
A young Diyawanna member from Pulatisipura had called on the former strongman the other day. Niceties over, the member who was in a buoyant mood told the strongman: "We are sure to come to power!"
The former strongman greeted this remark with a smile.
"I hope, Sir, I am getting Mahaweli!"
Taken aback by this unexpected request, the former strongman said: "We are yet to face an election!"  Meanwhile, a stalwart from Gampaha had told the strongman that he wanted no lesser office than a key one at top team level. Several others too have already made known their wish. A heavyweight from Kalutara is said to be eyeing the 'Ports' subject while a front-liner from Matara is openly claiming 'Education'.
Two are in the running for 'Foreign Affairs'. While an academic from the city, due to seek election through the national list has set his heart upon this familiar subject, a new contender from Kandy has reportedly entered the fray.
Several aspirants are already battling for the subjects of 'Finance' and 'Trade'. Two persons who are to contest for the first time and an old veteran are said to be among the leading contenders for these two portfolios.