Egg industry sounds alarm on potential crisis
Fears broiler chick producers may flood egg market with fertilised eggs
Lack of State controls blamed for excess supply of broiler chicks  
Over Rs.5bn wasted in poultry feeds to maintain excess supplies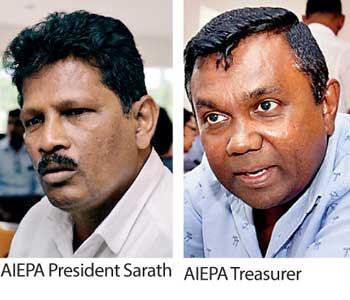 By Nishel Fernando
Sri Lanka's egg producers warn that the crisis-hit broiler chick producers may supply the fertilised eggs of their excess broiler-breeder parent stocks to the market leading to a collapse of the local egg industry.
"The broiler chick producers have been in crisis since September 2018 as they continued to supply excess quantities of day-old-chicks (DOC) to the market in the absence of controls by the Department of Animal Production and Health (DAPH) to maintain the procurement of parent stock at required levels from grandparent production hatcheries," All Island Egg Producers Association (AIEPA) President Sarath Ratnayake told Mirror Business.
He noted that the poultry industry has produced excess 4.84 million of broiler DOCs in 2017 for chicken as a result of relaxed procurement controls of DAPH. The figure has increased to 9.06 million DOCs in 2018.
As per AIEPA projections, the excess day-old chick production could shoot up to 36 million DOCs this year.
The AIEPA officials alleged that lack of controls by DAPH is the main reason for excess supply of DOCs.

"The production of parent stock is very much higher than the required amount for the country.
When you have too much of parent stock, you produce too much DOCs for the market. DAPH allows anyone to acquire any amount of parent stock," a top AIEPA
official lamented.
As the demand for chicken fell in the aftermath of Easter Sunday attacks with the tourism industry slowdown, AIEPA Treasurer Wijeaya Alwis remarked that broiler chick producers are in deep crisis now.
Hence, Ratnayake said that the industry have only two options—either to destroy their DOC stocks or to sell the fertilised eggs in the market before hatching
takes place.
According AIEPA, Sri Lanka's egg industry production meets the domestic demand for eggs, which is at 6.5 million eggs per day, and excess of 7 million eggs during festive periods.
Hence, Alwis fears that excess supply of eggs could bring down the market prices of eggs drastically,  driving many SME producers out of businesses.
Ratnayake cautioned that such a scenario would threaten the sustainability of the industry and increasing reliance of imports in the future.
He claimed that there's a conspiracy to drive out the SME sector DOC producers from business by the large scale producers, in order to gain the upper hand in the market.
According to him, SME sector accounts for around 30 percent of broiler DOC production in Sri Lanka.
Further, AIEPA officials pointed out that excess production of DOCs has also paved the way to an unnecessary increase in prices of poultry feed such as maize and soya due to high demand.
Ratnayake estimates that Rs 5.35 billion was exhausted by  excess production during 2017-2018 period, which was projected to shoot up to Rs13.86 billion this year.
As Sri Lanka imports majority of its poultry feed, he noted that this has already resulted in a foreign exchange loss
to the country.
He opined that both egg producers and broiler chicken producers could bring down their production cost by curtailing the excess production of broiler chicken.
"If the excess demand on poultry feed is curtailed, we can produce an egg at the cost of Rs.11-12 instead of Rs 14.50 and we can pass the price benefit to the customers," he stressed.
Ratnayake said DAPH needs to play its role in managing the procurement of parent broiler stocks by DOC producers in order to curtail the prevailing excess supply in the market.
The industry body is scheduled to meet Agriculture, Livestock Development, Irrigation and Fisheries and Aquatic Resources Development Minister P. Harrison in the coming days to express their concerns on the potential crisis in the egg industry.