Earnings of listed corporates gain in March quarter
Values up 28.5% to Rs. 98 b and by 15.4% to Rs. 87.5 b excluding one-off profits for two corporates
Food, Beverage and Tobacco, Bank and Capital Goods sector firms drive 2018 March quarter earnings
Combined earnings of all listed companies ha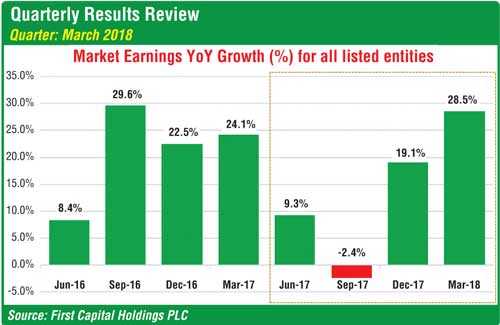 s seen health gain in the quarter ended on 31 March, reflecting the resilience on the part of most corporates.
According to First Capital Research, based on results of 284 listed companies, March 2018 quarter earnings spiked 28.5% year on year (YoY) to Rs. 98 billion which includes one-off profit arising from disposal of Janashakthi General approximately Rs. 7 billion by JINS and Union Assurance's change in the contract liability due to transfer of one off surplus amounting to Rs. 3.4 billion.
Excluding the two one-off gains, overall market earnings grew by 15.4% YoY to Rs. 87.5 billion dominated by healthy performances in Food, Beverage and Tobacco (+41% YoY) Capital goods (+26%YoY) and Banking (+21% YoY) overcoming the negative effect of Diversified Financial (-11%YoY), Material (-36%YoY) and Real Estate (-60%YoY).
First Capital said Beverage and Tobacco sector saw an impressive earnings growth of +41%YoY to Rs. 17 billion, driven by LION (+256%YoY), MELS (+2273%YoY) and DIST (+134%YoY).
The Banking Sector continued to remain as the largest contributor to earnings by achieving a profit Rs. 17.3 billion (+21%YoY) led by SAMP (+41%YoY), HNB (+21YoY) and COMB (+14%).
The Capital Goods sector earnings saw growth of +26%YoY to Rs. 20.1 billion, mainly driven by JKH (+100%YoY) and AEL (+177%YoY). JKH profits were boosted due to UAL's contractual liability change resulting from the one-off surplus of Rs. 3.4 billion while AEL's profits were up on the back of fair value gains of Rs. 2.4 billion on its Investment Property.
First Capital said diversified sector saw earnings dipping by -11%YoY to Rs. 15.2 billion due to substantial dip in profit in LOLC (-74%YoY) resulting from large one-off gain in the last comparative quarter (Mar 2017).
The Material sector earnings saw decline by -36%YoY to Rs. 2 billion driven by TKYO (-131%YoY) and DIPD (-57%YoY). TKYO's earnings were affected by higher cost of sales which
eroded gross margin coupled with higher finance cost (+123%YoY) while DIPD earnings were affect by higher taxation in 4QFY18, First Capital Research added.
In terms market valuations the Price Earnings Ratio (PER) was 10.8x based on four quarter trailing results and Price to Book Value was 1.3 X.