China strongly committed to helping Sri Lanka become prosperous: Envoy
China yesterday expressed stronger commitment to help Sri Lanka realize its goal to become a prosperous country, allaying fears over growing engagement and stating it has to do with gratitude and cooperation, and not ulterior motives.
"China and Sri Lanka have strong complementarities, and the potential for cooperation is still waiting to be explored. With concrete efforts and under the guidance of our leaders, I am fully confident that in the new era of our bilateral relations, we will certainly gain the success of joint construction of BRI in Sri Lanka, and embrace the Sri Lankan dream of a prosperous country and a happy people," China's Ambassador Cheng Xueyuan said yesterday.
"Long live China-Sri Lanka friendship," Ambassador Cheng said, after quoting an old Chinese saying: "A giant tree grows from a tiny seedling; a thousand-mile journey begins with a single step."
The assurance by China came at a symposium titled 'From Millennium to the New Era: Jointly Build the Belt and Road and Embrace the Sri Lanka Dream', held at the Chinese Embassy with Development Strategies and International Trade Minister Malik Samarawickrama as the Chief Guest.
Leading Chinese investors CMPort and China Harbour Engineering, academics, heads of policy think-tanks and media were also present.
The Ambassador revealed that as of end of 2017, Chinese companies have completed over $15 billion infrastructure projects in Sri Lanka, such as transportation, water, electricity, ports and other fields, and made great contributions to the economic and social development of this country.
In response to questions from the media, the Chinese Ambassador denied that China was leading Sri Lanka into a massive debt trap via its financing, saying interest rates were mutually beneficial and had taken into consideration Sri Lanka's repayment capacity. He said that the majority of Chinese loans were at concessionary rates, and those carrying commercial rates were based on the then-prevalent market dynamics. The Ambassador also dismissed reports to the effect that China's interests in Hambantota were driven by political and military agendas as baseless. In response to the flood of Chinese workers, the Ambassador said the cooperation projects and private sector funded projects were employing the minimum number of Chinese, with required approval from Lankan authorities, and such collaborative effort is enhancing skills and knowledge of Lankan workers.
He detailed why China is willing to help Sri Lanka and listed three main reasons in depth, not only to eliminate any unfounded fears over the growing and equally contentious engagement in Sri Lanka, but also demonstrate the future of bilateral relations. The three factors listed were longstanding history, shared experiences and combined dreams.
"The Sri Lankan Government and people have also drawn the 'Sri Lankan dream' of achieving national progress, economic development, ethnic unity, and religious harmony. This is consistent with the idea of BRI, and the goal of building a community with a shared future for mankind. As one of the first countries to openly support the BRI, Sri Lanka is an important partner with China in the Belt and Road joint construction," Ambassador Cheng said.
"China is willing to join hands with Sri Lanka and other developing countries, to take available opportunities and tackle challenges for a common development," he added.
The Ambassador reiterated that China would like to work with Sri Lanka to further enhance mutual trust, respect and support; to implement the mega-projects of Colombo Port City as well as Hambantota Port and Industrial Park; to boost the economic development of the Island nation for the early harvest of joint construction of BRI; and to bring tangible benefits to the two countries and peoples.
In his speech, Ambassador Cheng also highlighted some of the significant progress in bilateral cooperation. Among them were the completion of the NorochcholaiPower Station,which provides about 40% of the nation's electricity supply and ended the history of frequent power cuts in the island; and the Katunayake Expressway,which has brought great convenience to international travelers and contributed to the blooming of tourism.
The Colombo International Container Terminal, a Sino-SL joint venture which became one of the fastest growing container terminals in the world, was also emphasised. The newly-completed Moragahakanda Project, which is the biggest reservoir in Sri Lanka, has brought great benefits to local agriculture and people, the Ambassador said. "The Section-I of the Southern Railway and the extension of the Southern Expressway are going to be completed and opened, which will give a strong impetus to southern region development," he added.
The Ambassador also spoke of the on-going Colombo Port City development and the Hambantota Port and Industrial Park. These two mega projects, he said "are expected to become the new powerful engines for Sri Lankan economy to take off." In addition, he said the pragmatic cooperation has also created more than 100,000 jobs for Sri Lanka, and trained tens of thousands of technical and management personnel.
See Page 6 for the full text of Chinese Ambassador Cheng Xueyuan's speech.
---
Malik says Sino-Lanka ties "excellent" and more investments coming
Development Strategies and International Trade Malik Samarawickrama yesterday described Sino-Lanka ties as "excellent" and revealed more Chinese investments are coming.
He said that the Board of Investments recently signed an agreement enabling a Chinese company to invest $ 700 million into setting up a 400 MW LNG power plant in Hambantota.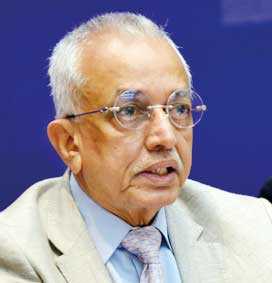 The BOI has also received applications to establish a cement plant as well as steel-based and rubber-based industries in Hambantota, and the Minister said it is hoped that agreements would be signed within the next 2-3 months.
Samarawickrama also said that the Government is looking forward to greater engagement with China's Belt and Road Initiative, which will enhance socio-economic development in Sri Lanka. He said that Sri Lanka is well aware that China will become the world's biggest economy in the near future. "I don't think anyone can stop that happening, and working with China will only help, us which is why we are negotiating a Free Trade Agreement with China," said Minister Samarawickrama, expressing hope that a mutually beneficial FTA can be concluded within a year.
"China is sincerely looking at helping to boost the economy of Sri Lanka," he added.