Glyphosate ban lifted for tea, rubber industries: Navin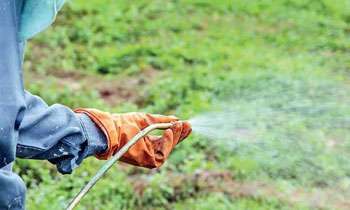 The ban on the Glyphosate weedicide has been lifted for tea and rubber industries with effect from today following the approval of President Maithripala Sirisena and Prime Minister Ranil Wickremesinghe, Plantation Industries Minister Navin Dissanayake said.
Minister Dissanayake told a news conference that the government had reached this decision considering the economic damage the ban had caused to the tea and rubber sectors.
"The economic damage it has done was too excessive and also there were no real scientific evidence to link Glyphosate with chronic kidney disease of unknown etiology (CKDu). Accordingly, the ban was lifted for tea and rubber industries," he said.
"The government is planning to replace Glyphosate with an organic herbicide within the next 3-4 years," he added.
He said the estimated loss of annual yield for the tea industry was Rs. 33.2 million while reduction of export earnings was estimated to be Rs 26.7 billion per year with the ban on Glyphosate.
He also said a Cabinet paper would be presented during the next week seeking the Cabinet's approval on the said decision.