Swift legal action on Bond scam possible: UPFA
Says provisions in Evidence Ordinance provide leeway to fast-track legal proceedings and probe headed by AG
Ahead of the impending report of the Presidential Commission of Inquiry on the controversial Treasury Bond scam, a top Government Minister from coalition UPFA yesterday said legal proceedings on the matter could be fast-tracked  since the probe came under the purview of the Evidence Ordinance and was headed by the Attorney General.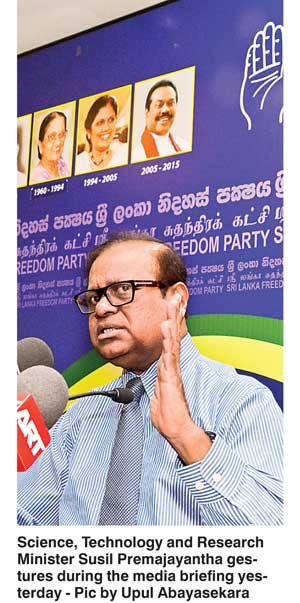 Addressing the media, Science, Technology and Research Minister and UPFA General Secretary Susil Premajayantha opined that unlike other investigations, the Presidential Commission Inquiry (PCOI) into the Central Bank bond scam could be expedited in accordance with the legal provisions of the Evidence Ordinance.
"Once the findings of the Commission and its recommendations are submitted to the President, the legal process should not take long. "
"The Commission was established under the Evidence Ordinance, which would give leeway for the proceedings to be accelerated."
He said that unlike the Committee on Public Enterprises, the parliamentary watchdog committee tasked with investigating state institutes for fraud and corruption, the PCOI into the bond scam was headed by the Attorney General and his officials and therefore its recommendations could be adhered to more directly and relevant charges could be filed accordingly.
The Commission was set up in January this year, with the hearing of evidence commencing from February and continuing for 120 days. The recording of evidence concluded on 17 October even though the deadline was 27 October. However, upon request, the timeframe of the Commission was extended to 8 December.  Prime Minister Ranil Wickremesinghe appeared before the Commission on 2 December.
The mandate of the Commission was further extended till 31 December and it is expected to hand over its findings and recommendations to the President soon after.
Meanwhile, referring to the issues concerning the importation of asbestos, Minister Premajayantha said that the 15-member team which had travelled to Russia to observe Russian asbestos manufacturing processes would return to Sri Lanka on 30 December.
"The report on the team's findings will be handed over to the Government to ascertain whether we can continue to import white asbestos or if it should be banned for health and safety reasons," the Minister said.