Shangri-La Asia Chief says its growing investment reflects "great faith" in Sri Lanka
Describes opening of Shangri-La Hotel, Colombo as a "significant milestone" and properties in the city and Hambantota are "best of both worlds"
Shangri-La Asia Chairperson Hui Kwong Kuok said last week that the opening of the hotel in Colombo was a "significant milestone" and the company's investment in Sri Lanka reflects its "great faith" in the country's future potential.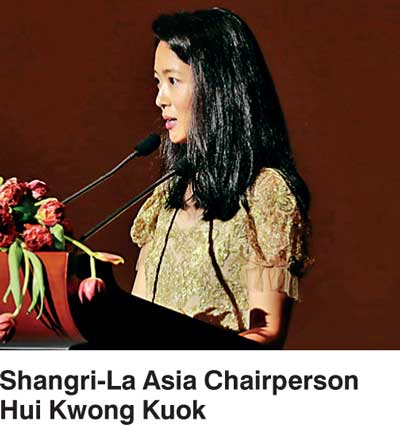 "We are delighted to unveil this beautiful hotel alongside the iconic Galle Face promenade. This marks a significant milestone for the Shangri-la Group," said Kouk while speaking at the gala dinner to mark the opening of the Shangri-La Hotel, Colombo with 500 guestrooms and suites, and 41 serviced apartments.
This is the second Shangri-La hotel in Sri Lanka and the first phase of One Galle Face to open. Last year it opened a golf resort in Hambantota.
"We hope this investment shows the great faith we have in the Government and the people of Sri Lanka and the country's great future," she emphaised. "Shangri-la cannot be more excited to be a part of this exciting journey to transform Sri Lanka into one of the leading tourism and business travel destinations in Asia," Kouk added.
She said the first property Shangri-la Hambantota Golf Resort and Spa opened last year and a new hotel in Colombo ideally complements the former. "We now have the best of both worlds," Kouk added.
She noted that as Shangri-La, Colombo opens its doors it is not only bringing renowned hospitality to new heights in this vibrant city but also introducing a new level of luxury and a lifestyle destination, a place where the city comes alive and everyone feels welcome. "That is the spirit of Shangri-La hospitality," she added.
She said Shangri-La strives to create an environment where people feel comfortable, welcomed and at peace. "It is a simple idea of generally caring for people that defines our brand. It is the attention to detail and dedication to providing comfort, warmth and security for our guests."
She recalled that the Shangri-La Group's history is rooted in Asia with the first Shangri-La opened by her father in 1971 in Singapore. "The Shangri-La Singapore went on to set new standards by raising local culture and becoming an icon in community, a place everyone wants to go and feels connected to. This concept of hospitality is now part of our DNA and we strive to achieve this in all the developments that we create."
Shangri-La Hotels and Resorts currently operates over 100 hotels with a room inventory of over 41,000.
Kouk said from the very inception of Shangri La Colombo, the company has been deeply inspired by Sri Lanka's natural tradition and cultural beauty. "At every level of conceptualisation we have woven these threads into the hotel's design and wide range of offerings."
"By defining modern luxury and Shangri-La's hospitality with authentic Sri Lankan charm, we believe Shangri-La, Colombo will enhance the integrity and value of tourism in Sri Lanka whilst also uplifting the livelihood of the members of the community," the Chairperson said.
She envisions the local and international communities coming together in celebration of Colombo's vibrant spirit and style and being delighted with experiences that are beyond the boundaries of anything that has been offered here before.
She also said Shangri-La, Colombo unlocks exciting and undiscovered experiences in the city with a collection of tours and stunning range of restaurants and meeting venues.  Following the hotel, the One Galle Face residential, shopping mall and office complex components will open over the next two years. "The 10-acre development offers an unparalleled integrated lifestyle experience and we look forward to welcoming you to celebrate our next opening," Kouk told guests at the gala dinner.
Noting that many people have worked to bring this vision to life, the Shangri-La Asia Chairperson thanked the Government and the people for their continued support of this ongoing project.
She also thanked Shangri-La Colombo Director and Partner Sajad Mawzoon, who she said "has worked tirelessly to ensure the success of this project."
The Chairperson also thanked the project team contractors, consultants and management staff for their hard work and commitment leading up to the opening of Shangri-la Hotel, Colombo. "I know our team takes great pride in their work and will endeavour to make your experiences and taste of Shangri-la hospitality here pleasant and memorable from today onwards," Kouk added.