The continuing fuel shortage added more misery to the public yesterday causing a furore countrywide over the mismanagement and blame game.
An apologetic Petroleum Resources Development Minister Arjuna Ranatunga yesterday said that he had faced pressure from various parties, including through political avenues, to accept the substandard fuel consignment of the LIOC.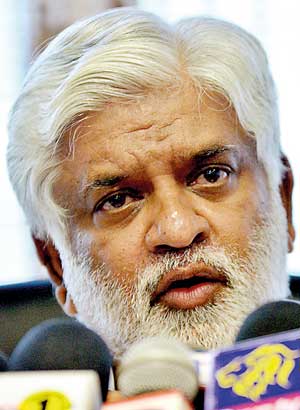 While apologising to the public for the issues that had arisen due to the fuel shortage, Minister Ranatunga told journalists that he had categorically rejected the notion of accepting the substandard fuel stock into the island.
"I informed the President of the situation and that the correct action to take would be to reject the low quality fuel. I was pressured from different sides, including politicians and businessmen. I was even offered money to accept this substandard stock of fuel," he said, pointing out that had the substandard fuel reached the local market, the consequences would have been far more severe.
Elaborating on the issue, the Minister said that the problem began when a Lanka Indian Oil Company (LIOC) fuel tanker carrying 40,000 metric tons, which arrived in the island on 15 October, failed two tests carried out by the Ceylon Petroleum Corporation and was rejected by the CPC on 18 October.
"We were promised a replacement shipment of fuel on 31 October by LIOC but several days later they said they could not provide a replacement."
He said that a second oil tanker, which was scheduled to reach Colombo port on 2 November, had been delayed by six days.
"We expect this shipment to reach us on 8 November and expect its fuel to be distributed by the afternoon of 9 November," he said, adding that the tanker contained 32,000 MT of 92 Octane petrol and 7,500 MT of 95 Octane petrol.
The Minister admitted that the delay of the ship scheduled for 2 November was questionable and that he would carry out investigations accordingly.
"My main priority at this point in time is to resolve the problem of a fuel shortage in the country; afterwards I will hold inquiries into this issue. I know exactly what to do, just give me two weeks, I will ascertain the cause of this," he said, assuring that he would discuss the matter with President Maithripala Sirisena to identify the origins of the SMS alerts that caused panic within the populace.
In addition, the Minister said that discussions were underway to construct another refinery in the country and that six more oil storage tanks for Kolonnawa were in the pipeline.
With regard to a fuel pricing mechanism, the Minister said that he advocated a mechanism that ensured the public service of CPC.
"It is my opinion that a price mechanism for an institute such as the CPC should strive to provide a public service and not seek to make profits," the Minister said, asserting that there would not be a reduction in fuel prices in the near future.