Lotus Tower to blossom in March next year
Projecting a massive shadow over Slave Island, the 350 metre Lotus Tower is set to open by March next year standing tall from the rest in Colombo's rapid changing skyline, a senior official of the Telecommunication Regulatory Commission (TRC) divulged.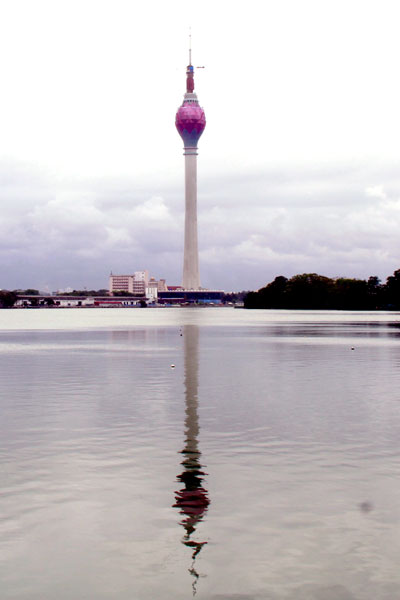 The construction work of structure has already been completed and the finishing of interior and exterior is continuing, he said noting that this work is more time consuming due to complexity of the structure.
This Chinese EXIM bank-funded US $ 104.3 million project commenced on January 20, 2012 and was expected to be completed within 912 days as per the initial plan.
With a spherical top resembling the namesake blossom of lotus, this tall tower (24 m taller than the Eiffel Tower) will primarily serve as a transmission station for television and radio; he said.
It will also facilitate the transmission of signals of 50 TV Channels and over 35 FM Radio Stations. The tower has a range of tourist attractions including an observation deck at the top and a restaurant at the base.
The 3-storied tower base will house various shopping centres, food courts and possibly even a walk-through museum. The tower itself will house banquet halls and an observation deck on the eighth floor.