President consolidates position as SLFP leader ahead of local polls
One-on-one meetings with SLFP stalwarts; dissidents to be replaced with youth leaders
Central Bank's latest report of the economy calls for corrective measures
With local government polls now ahead, President Maithripala Sirisena has embarked on an ambitious project to consolidate his position as leader of the Sri Lanka Freedom Party (SLFP).
Last Thursday evening, he took the unusual step of conducting one-on-one meetings with SLFP ministers, parliamentarians and chief ministers. The venue for the special event was the Cinnamon Hilltop at Kaluwella in Galle. There were no 'note takers,' secretaries or other officials. Seated in a ground floor room of what was once the abode of Col. Henry Steel Olcott, a former US military officer, journalist and lawyer well known for the Buddhist revivalist movement in Sri Lanka, the President made notes of the discussions personally.
The SLFP stalwarts had been summoned to this new hotel on Thursday for an overnight session. They were accommodated at this new boutique hotel as well as those nearby. They had finished an early dinner. Sirisena arrived shortly after 7 p.m. With a short break at his upstairs suite, he walked into the room with a notebook in hand to invite those present, one by one, for separate meetings. He jotted down the varied issues they raised. They ranged from electoral problems, difficulties in servicing their electorates to the future of their party. One message Sirisena gave all of them was that he planned to hold such meetings regularly, if possible every week. The bilateral sessions went on till 11 p.m. that night.
After a raucous night with some fun and frolic, the participants were up again at 6 a.m. on Friday. Sirisena had another one-on-one session that went on till 10 a.m. It was then time for him to board an Air Force VIP helicopter for a flight to Polonnaruwa. There, he laid the foundation stone for a new tri-lingual 'national school' in Kaduruwela together with Indian High Commissioner Taranjit Singh Sandhu. India is funding this project.
Other participants continued with a workshop until lunch time. They discussed upcoming local government elections and how to gear the party machinery. The opening of more SLFP offices in different electorates and a membership drive were also discussed. That was a challenging task no doubt. The SLFP is not only opposing its partner in governance, the United National Party (UNP), but also has to face the Sri Lanka Podujana Pakshaya (SLPP), made up of pro-Mahinda Rajapaksa loyalists who were SLFPers. Coinciding with the President's visit to his former constituency of Polonnaruwa was the disturbing news for him that 13 UPFA members of the North Central Provincial Council (which includes Polonnaruwa) resigned and joined the Rajapaksa-led SLPP on Friday.
The task before those who met Sirisena in Galle would be to win the majority of local bodies and cede less to the UNP and even lesser to the SLPP. A reversal of that order would not only constitute a defeat for the party but also for Sirisena as their leader. This was one of the reasons why Sirisena chose to delay three Provincial Council elections. One – the North Central Province encompassed his own bastion in Polonnaruwa. Had it not been for the controversial passage of the Provincial Council (Elections) Bill in Parliament, polls would have been called by now for three PCs. They are Sabaragamuwa (term ended on September 26), North Central (term ended on September 30) and Eastern (whose term ends today).
President Sirisena did come under strong criticism from within his own ranks in the past many months. A handful of ministers and even MPs were critical for they perceived that he was leaning heavily on the UNP. They claimed that allowing the UNP to take several controversial economic and social measures caused problems for them in their electorates. On such critic, Minister Susil Premajayantha was away from Sri Lanka and so could not take part in the Galle meeting. Two among a group of MPs who were described as being unhappy – Duleep Wijesekera and Susantha Punchinilame – however, were present at the event. Among others absent were Deputy SLFP leader Minister Nimal Siripala de Silva and SLFP spokesperson Dilan Perera. Ministers who were present but did not engage in one-on-one meetings saying they regularly meet Sirisena included Sarath Amunugama, Mahinda Samarasinghe, Duminda Dissanayake and Mahinda Amaraweera.
In fact, ahead of the vote on the Provincial Council Elections (Amendment) Bill, some MPs absented themselves. Others were assured that their grievances would be addressed. It is in that aftermath that the one-on-one meetings came about and it underscores Sirisena's efforts to patch up differences and take more assertive control of the party. There was speculation then that a group was on the verge of switching over to Opposition benches and to remain as 'Independents.' That was averted. Even if Sirisena's Galle dialogue, coming as it does before the Sri Lanka Navy's annual Galle Dialogue on Indian Ocean security, did not discuss it, other plans are also on the drawing boards. He wants to replace dissidents in the party with new SLFP electoral organisers. In doing so, he wants to draw more youth into the party. A more important move is to expel from membership MPs who are now not with the party. Even video cameras are now being arranged to gather evidence to prove that such persons violated party discipline.
On arriving at the Hotel on Thursday night, Sirisena made a brief speech. He said that when he was returning from attending the 72nd sessions of the UN General Assembly, he had read an Indian newspaper. There was a report with different charts about a downturn of India's economy. Noting that Sri Lanka was better in this respect, he said, those present should work hard to ensure that the economy improves even further.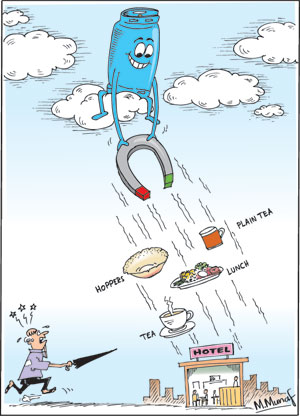 State of the economy
Sirisena's remarks came as his Government became privy to a Central Bank's latest report titled "Sri Lanka's Recent Economic Performance and Medium Term Growth Prospects" released last Wednesday (September 27). It has been prepared by the CBSL's Economic Research Department and paints a rather worrisome scenario if no corrective action is taken. CBSL Governor Indrajit Coomaraswamy and Deputy Governor Nandalal Weerasinghe made a presentation on this report last Wednesday before the Cabinet Committee on Economic Management (CCEM). It is chaired by Prime Minister Ranil Wickremesinghe. The report gives a comprehensive idea on how the key sectors of the economy are performing.
The Sri Lankan economy, according to the report, grew by 3.9 % in the first half of 2017, in comparison to the growth of 4.4 % in the year 2016. In Agriculture activities, negative growth rates were recorded in rice (- 42.1 %), cereals (except rice) (- 15.2 per cent), rubber (-5.9 %), and vegetables (- 4.6 %) while improvements were observed in tea (1.2%), animal production (8.9%), marine fishing (4.5%) and fresh water fishing (15.1%). Growth in industry activities was driven by the expansion in construction (12.8%), and mining and quarrying activities (18.1%). Performance of Services activities was supported by the financial services (15.8%), wholesale and retail trade (4.2%), and human health activities (12.4%)
Noting that the real GDP growth has been around 4.3% since 2013, the CBSL report has said that this low growth is in spite of substantial amounts of credit being pumped to the economy. Factors adversely affecting growth during this period include extreme weather conditions and weak external demand, but structural weaknesses of the economy cannot be ruled out, the report said. It added that continued low growth in spite of expectations of acceleration, has also affected the view of the local and foreign economies on the country's growth potential. It notes that the International Monetary Fund (IMF) assumes a potential GDP growth of 5% for Sri Lanka, while the CBSL estimates have been gradually revised downwards from around 7.2% in 2015 to around 5.9% at present. Nevertheless, the CBSL said that the baseline projections assume that growth performance will gradually improve to reach a higher growth path of around 7% in the medium term.
The CBSL has said that there were upside and downside risks for the achievement of baseline growth path. The UPSIDE: Hambantota Port and Colombo International Financial City related projects in particular could accelerate related FDI (Foreign Direct Investment) inflows in the medium term. The envisaged FTAs could increase domestic investment while expanding external demand. The continuation of the IMF programme along with the structural reforms could improve investment confidence to levels above expectations. Better than expected economic performance in Sri Lanka's export markets could support domestic growth.
THE DOWNSIDE: Continued extreme weather conditions could affect both economic growth and inflation paths. Lack of labour availability could restrain growth performance of construction, factory industry, as well as tea and paddy sectors. Disruptions to fiscal consolidation could result in weaker investor confidence. Weak private sector engagement in economic activity could affect growth and employment generation. Sluggish external demand could weaken the country's external sector performance. Increased global energy prices and high re-financing costs could change Sri Lanka's growth outlook. Most importantly, the postponement of much needed structural reforms could prevent the achievement of the envisaged growth path. Short term monetary and fiscal adjustments will not deliver sustained growth, and could possibly be damaging to the economy.
The CBSL has said that inflation is expected to be maintained within 4 to 6% in the medium term. Among several challenges to growth, the CBSL believes that there are five priority areas to be addressed. They are maintaining policy consistency and focused efforts to achieve the long term vision of making Sri Lanka a rich economy within a knowledge based, highly competitive, social market framework. (1) It is essential that the planned fiscal consolidation efforts are continued, to ensure fiscal sustainability and improve investor confidence. (2) Monetary policy should aim at maintaining inflation at 4 to 6%, while ensuring exchange rate flexibility. (3) Efforts to move the doing business environment and investment climate must be accelerated. (4) Institutionalisation of the envisaged improvements to macroeconomic policy making is essential.
The CBSL has proposed FDI related reforms to (a) invite selected strategic FDIs and actively pursue negotiations until they materialise. (b) Expedite FDI approval processes and provide post-approval facilitation of investments. (c) Accelerate full implementation of one stop shop for investment and case of doing business agenda. The CBSL has recommended that short term work permits be issued for foreign labour in the light of the existing shortage. It also wants to encourage female labour force participation by extending flexible work hours to the private sector and establishing high quality day care facilities to be run by the private sector. The CBSL has observed that continued low growth in spite of expectations of acceleration, has also affected the views of local and foreign economists on the country's growth potential.
As is clear from the CBSL's report on the state of the economy in the first half of this year, much remains to be done. It is likely that some of the issues will be addressed when Finance Minister Mangala Samaraweera presents his first budget in Parliament on November 9. Ahead of the budget, the price of a cylinder of cooking gas or LPG has risen by Rs 110 thus pushing up the prices of a variety of food items. This includes the price of a packet of cooked rice and curry, the common man's meal, which rose only weeks earlier as a result of the ban on polythene. The snowballing effect has also spread to a variety of other commodities. Thus, any relief, if it does come, would have to be one that could absorb the latest price increases.
Economic issues apart, the Government's approach in seeking the passage of the Provincial Council Election (Amendment) Bill into law in Parliament has also created a furore. Besides the 'Joint Opposition,' institutions like the Bar Association of Sri Lanka (BASL) are among those who have protested over the issue.
As revealed in these columns last week, the Government resurrected the Provincial Council Elections (Amendment) Bill presented in Parliament on July 27. It was passed a week ago in Parliament with 30 pages of amendments which completely changed the objective of the Bill – "to specify the number of female candidates to be included in a nomination paper." It sought to make it mandatory for 30 % of the total number of candidates included in a nomination paper and to reject any such paper which did not comply.
One of the highlights of the amendments was the setting up of a Delimitation Committee, a provision that was carried through at the Committee stage. The setting up of this five-member Committee is to carve out electorates within a province. This exercise is intended to be carried out within four months. However, like in the case of the demarcation of boundaries for local bodies, the likelihood of an inordinate delay cannot be ruled out. On that will hinge the conduct of future PC elections.
Dinesh Gunawardena, leader of the 'JO' in Parliament, told the Sunday Times "We are shocked that a Government which professes good governance or yahapalanaya has insidiously violated parliamentary procedure. What it introduced in Parliament through 30 pages of provisions to the Provincial Council Elections (Amendment) Bill did not relate to the title. They were entirely new laws. The Government should have first gazetted such new laws giving the public an opportunity to study the provisions and challenge it, if necessary, before the Supreme Court. The Government does not want to face the local polls. They also do not want to face the PC polls though it claims it is committed to democracy. We will raise issue over this with the Inter Parliamentary Union and other world bodies. The Colombo based diplomatic community knows too well what has been going on." The moves by the Government were "clearly designed" to put off PC elections. "Those who spoke of good governance are now frightened to face the people," he added.
Gunawardena argued that Speaker Karu Jayasuriya should not have allowed the passage of those laws. He said there was also a difference in the Sinhala and the English texts. Jayasuriya, however, was in the United States of America heading a parliamentary delegation to the US Congress. Parliament sources said that the Speaker had the power to rectify the errors. Gunawardena, who is leader of the Mahajana Eksath Peramuna (MEP), also said that the 'JO' was in consultation with legal counsel to move to the Supreme Court.
In what appeared an unprecedented move, onetime Chief Justice Sarath Nanda Silva filed a fundamental rights petition in the Supreme Court last week. He cited Attorney General Jayantha Jayasuriya, Speaker Karu Jayasuriya, Chairman and members of the Election Commission as respondents in a case where he has challenged the Provincial Council Elections (Amendment) Bill.
The former Chief Justice seeks (a) a declaration that the Attorney General's opinion on the amendments to the Bill is ultra vires and void; (b) a declaration that the Speaker's certification that the Bill was duly passed by Parliament is ultra vires and void; and (c) a direction to the Elections Commission to proceed immediately to hold elections to Provincial Councils on the basis of the existing law.
LEAVE TO PROCEED
An FR application can only be filed in respect of "executive or administrative action" (Article 126 of the Constitution). Therefore, judicial and legislative action are excluded. Under Article 77(2), the Attorney General is required to communicate his opinion to the Speaker on the constitutionality of an amendment proposed to a Bill "when the Bill is ready to be put to Parliament for its acceptance". That would be at the Third Reading stage. When the AG provides an opinion to the Speaker, he is performing an executive act. Under Article 79 of the Constitution, the Speaker is required to endorse on every Bill passed by Parliament a certificate that the Bill has been "duly passed by Parliament". Under the 1946 Constitution, when the Governor-General's assent was required to transform a Bill into an Act, he was part of the legislative process. (The enacting words were "Be it enacted by the King's Most Excellent Majesty, by and with the advice and consent of the Senate and the House of Representatives of Ceylon in this present Parliament assembled . . .".) However, under our present Constitution, the Speaker does not "assent" to the Bill, but "certifies" that it has been duly passed. That would be an executive act.
OBVIOUS OBSTACLES
Article 80(3) of the Constitution states that "Where a Bill becomes law upon the certificate of the Speaker being endorsed thereon, no court or tribunal shall inquire into, pronounce upon, or in any manner call in question the validity of such Act on any ground whatsoever". Article 124 states that "No court or tribunal . . . shall in relation to any Bill, have power or jurisdiction to inquire into, or pronounce upon, . . . its due compliance with the legislative process, on any ground whatsoever".
Another question that could arise is whether a former Judge of the Supreme Court, who is prohibited from appearing as counsel in court, could nevertheless appear as a litigant and argue in person. This prohibition is designed to prevent a former Judge of a superior court from citing his own judgments when appearing as counsel. In this instance, a decision of a former Speaker who declined to comply with a Supreme Court order relating to a parliamentary motion to impeach former CJ Sarath Silva is likely to be cited to challenge the Court's jurisdiction to entertain this petition.
RELIEF SOUGHT BY THE PETITIONER
The principal relief sought by the petitioner has been set out in the first paragraph above. Petitioner Silva's argument is that the Bill that was passed at First and Second Readings was not the Bill that was passed at the Third Reading.
One legal expert said he would prefer to present the argument on a somewhat different basis. The Bill that was gazetted stated that its legal effect is to require that in a nomination paper of candidates not less than 30% should be female candidates. That was sought to be done by a simple amendment of section 13 of the principal enactment. That was the Bill that was subject to review by the Supreme Court on the initiative of a citizen. That was the Bill that passed the First and Second Readings.
However, at the committee stage, the two substantive sections in that brief one page Bill were deleted, and replaced with 22 new sections in a now 21-page Act. These sections had no relation whatsoever to the stated legal effect of the original Bill, and instead contained substantive amendments to sections 10, 13, 18, 22, 24, 28, 30, 36, 37, 38, 41, 43, 45, 46A, 50, 51, 53, 54, 58, 60, 65, 129 of the principal enactment.
A five-page new section 3A was introduced to establish a Delimitation Committee. Another five-page new section (58A and 58B) to deal with another issue, and all the Schedules to the principal enactment were repealed. The Bill presented for a Third reading was a completely new Bill which had no relation whatsoever to the original Bill that had been published in the Gazette and placed on the Order Paper. Even the percentage of female candidates contesting a PC poll was altered from 30% to 50%.
The question that arises is whether the Government can gazette a Bill and then proceed to introduce several amendments at the committee stage which, in effect, constitutes a completely different Bill, and thereby deny the citizen the opportunity to invoke the jurisdiction of the Supreme Court in respect of that substantially new Bill. Can reference to the Supreme Court, at the instance of a citizen, be averted through such a device?
What happened in Parliament also demonstrates the obvious weaknesses of the pre-enactment review process that is enshrined in the present Constitution, and how easy it is to circumvent it with an obliging Attorney General and Speaker, the legal expert said.
Government sources speak of a local government election on January 21. However, Election Commission Chairman Mahinda Deshapriya, said yesterday, "The Minister (of Provincial Councils and Local Government) should now issue a gazette notification with the number of members to be elected. It is only thereafter local elections can be called for."
It is quite clear from the recent developments that elections to Provincial Councils will remain an uncertainty. Besides the three PCs that stand dissolved, others whose terms expire will now come under Governor's rule. This is much the same way Commissioners are running the country's Municipal Councils, Urban Councils and Pradeshiya Sabhas. Thus, two institutions of governance by those elected by the people's vote are now run by officials and political nominees. Only an elected Parliament functions and is now under a controversy over allegations that it legally delayed polls for the other two. That it goes against the principles of good governance, and the moral legitimacy of their arguments, is arguable, but does little good for the coalition and its leaders.
President Sirisena's strategy to consolidate his position as the SLFP leader, places his party on a new footing to weed out detractors, but it, no doubt, will be time consuming. UNP leader and Prime Minister Ranil Wickremesinghe, as said before, had delivered Sirisena's wishes with a legal coup to delay the PC polls. The UNP now waits for its quid pro quo and for a nation it is quo vadis or where the nation is headed?