Crackdown on MR and family imminent
President says 'JO' members jubilant over Karunanayake resignation, but its leaders will soon know what awaits them; quips of appointing even 10 Commissions
Another blow to UNP as SLFP Central Committee decides PC polls should not be postponed; 20th Amendment out, Cabinet decision to be reversed
UNP backbenchers want no-faith motion against Wijeyadasa on Hambantota and other issues, but PM scuttles the move
It was like the old Sinhala adage of falling from the tree only to be gored by a bull or a double whammy as they say in the West.
The United National Party (UNP), battered and bruised by the Ravi Karunanayake saga, was in for more embarrassment. The Sri Lanka Freedom Party (SLFP) Central Committee decided unanimously Thursday night that elections be conducted to Provincial Councils (PCs) in Sabaragamuwa (term ends on September 26), the Eastern Province (term ends on September 30) and the North Central Province (term ends on October 1) this year.
It was at the Cabinet meeting on Tuesday (August 1), just nine days ago, that ministers gave approval to a recommendation by Prime Minister Ranil Wickremesinghe to put off Provincial Council elections on the grounds that "an undesirable socio-political environment has emerged in the country." He won approval to introduce an amendment to the Constitution — the 20th Amendment — to make provision to enable elections to all PCs to be conducted in one day. Such a move, it was clear even then, would not pass muster since a two thirds majority vote was required. There were rumblings among members on both sides.
Moreover, the 'Joint Opposition' and public interest groups were making preparations to challenge the draft constitutional amendments in the Supreme Court. "We will not vote for amendments to put off PC elections. In fact, we are awaiting the tabling of these amendments in Parliament on August 22 to seek the intervention of the Supreme Court", Dinesh Gunawardena, leader of the 'JO' in Parliament, said yesterday. "Any move to put off elections is anti-democratic and goes against the will of the people, their right to franchise. We will totally oppose it," he added.
The Elections Commissioner Mahinda Deshapriya has also written to President Sirisena not to put off the PC polls. He has said that such a move would be in violation of the Constitution. Now that the SLFP Central Committee has decided unanimously that the PC polls should be conducted as scheduled, the Cabinet of Ministers is expected to rescind its earlier decision. The matter is expected to come up on Tuesday. This will mean the Elections Commission will be able to go ahead with its originally planned date for nominations for these three PCs to be held on October 3. It is likely the elections will be on a date in November.
The justification for holding PC polls in one day, according to Premier Wickremesinghe, was "more logical, reasonable and appropriate" for four reasons:
(1) Efficient utilisation of state resources on elections
(2) Elimination of undue disruptions to day-to-day life of the general public and state service deliveries.
(3) Dissipation of energies and resources of Political Parties throughout the Country, minimising election-related violence and state resources utilisation by some candidates, and
(4) Accurate using of public perception as a barometer to evaluate the conduct of the incumbent government, enabling it to take corrective measures, if needed.
However, SLFP Central Committee members, including ministers who were present at the Cabinet meeting, were highly critical. Among the most outspoken was Disaster Management Minister Anura Priyadarshana Yapa, a Kurunegala District MP. Others who were strong in their opinion were Ministers Susil Premjayantha and John Seneviratne. Yapa said for no reason should elections be postponed — a view that was endorsed by many of his colleagues including other SLFP ministers. Some speakers threatened to vote against the Constitutional amendments if their appeal is not accepted. It was ironic that they did a volte-face within just three days of a collective Cabinet decision.
President Sirisena, who declared he would heed their request made a disclosure that became the talking point among those present at the CC meeting. He noted 'Joint Opposition' members were jubilant over the events related to Foreign Minister Ravi Karunanayake's resignation. He warned that their euphoria would be short lived. Speaking in Sinhala, he said, "I know what is going to happen to them by next week." Sources close to the Presidency said Sirisena had hinted about the investigations that had gone on in high profile cases — those relating to former President Mahinda Rajapaksa and members of his family. Since admonishing the UNP leadership at a Cabinet meeting last month for colluding with those concerned to stall the probes, Sirisena has personally taken initiatives to expedite some important probes. Further impetus came when the UNP leaders, under pressure after the Karunanayake episode, began to make public comparisons about the bigger volume of bribery and corruption under the previous regime. Some even said so in Parliament, notwithstanding the fact that the UNP was accused of delaying them.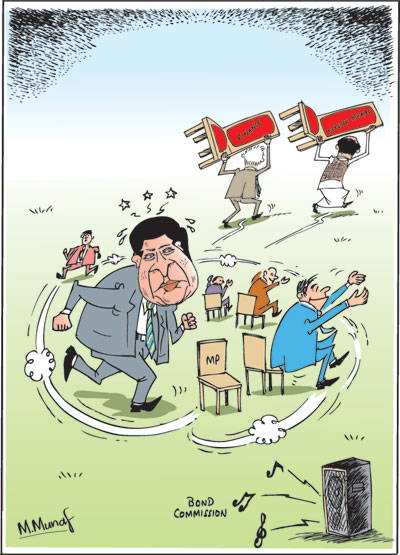 Those remarks only drew sarcastic retorts from former President Mahinda Rajapaksa. Referring to the Karunanayake saga, he declared, it was nothing but divine retribution for the accusations made against him and his family. Yet, he was conscious that a crackdown against him and the family was imminent. Commenting to a group of 'JO' members on the Karunanayake episode (before his resignation and statement in Parliament), he said the Foreign Minister quitting the Cabinet would lead to other developments. To 'make things equal,' Rajapaksa told them the Government could arrest him or his family members and urged that the 'JO' should be mindful of this. They would produce them in Courts and launch a propaganda drive, he said.
Adding to the unease of the UNP was another development. Justice Minister Wijeyadasa Rajapakshe in different public comments and in newspaper interviews, strongly criticised the Concession Agreement between the Government and the Chinese company for the Hambantota Port project. Rajapakshe, known for wallowing in controversy, said it was his commitment to take back the Hambantota Port one day from Chinese hands. If it was clearly a violation of collective responsibility since the Cabinet of Ministers had approved the Concession Agreement, which is a legally binding document, it was to spark anger amongst UNP backbenchers. On Thursday, they began a signature campaign for a Vote of No Confidence on Rajapakshe. The thrust of their accusations was on violating collective cabinet responsibility.
However, the identities of most backers to the motion also laid bare another possibility. They were closely associated with then Minister Karunanayake and believed the Justice Minister was the cause for some uncomfortable moments when he appeared before the Commission of Inquiry – an accusation which Rajapakshe has dismissed. They felt this was again retaliation for Karunanayake raising issue at a Cabinet meeting over Rajapakshe's close association with Avant Garde Maritime Services Ltd., a company which is under several probes now for allegedly amassing enormous wealth providing private security for cargo vessels from sea pirates active in the seas off Sri Lanka. Premier Wickremesinghe was to summon key movers and direct that no such motion should be forwarded. He had said that such a step would require discussion and approval at the Working Committee, the main policy making body of the party and from him as the leader. Eka deng kunu koodeyta daanna oney or we must dump it in the waste paper basket, declared a Deputy Minister who was one of the movers.
Nevertheless, a UNP minister and one of four Government official spokespersons Rajitha Senaratne chastised Rajapakshe. Speaking at the briefing that follows weekly ministerial meetings, he said his colleague had breached the Cabinet's collective responsibility principle. His (Rajapakshe's) utterances, Senaratne said, will be taken up for discussion at the next ministerial meeting on Tuesday. Whether Senaratne should publicly accuse a ministerial colleague of misconduct is debatable, but he was quite clearly using his position as official spokesperson to express personal views creating the public impression that the remarks were coming from the Government. Another instance was over the conduct of officials of the Attorney General's Department, particularly senior counsel assisting the Commission of Inquiry probing the Central Bank bond scam. Senaratne charged that they had ignored files related to Mahinda Rajapaksa and his family members and were concentrating on "smaller cases" like the one related to Karunanayake.
Senaratne also told a news conference that followed the ministerial meeting that "My question was, what the Commission is investigating here? This incident involves the house and phones of a party suspected of involvement in the Treasury bond issue and their friends. Even if all phones had been obtained, I asked if this could prove whether a fraud took place during the bond auction. They also keep asking for three month extensions. My question was, is the Commission asking for extensions to probe the bond scam or things like this? What we want is for the Commission to get to the truth of the bond issue and submit a report to us. That report should be of an advisory nature." It is clear even to the most dim witted that Senaratne is uttering those words as the official Spokesperson of the Government, an abuse of his position and an affront to President Sirisena who has appointed the Commission. That he uses the weekly media briefing as a platform to air his own views, creating the feeling that they were official, thus causing embarrassment to the Government, is all too well known. That was why the SLFP put in its own official spokesperson in Dayasiri Jayasekera to offset Senaratne's solo flights on behalf of the Government. This signalled that the SLFP was not necessarily on the same page as Senaratne.
Similar sentiments were also expressed by UNP backbenchers who rushed to make personal accusations. Collectively, they were giving a strong message — it was to intimidate counsel in the AG's Department and thus force them into the graveyard of silence. Aggressive questioning to elicit the truth from any accused or witness has remained the prerogative of a counsel either from the state or the private bar. Advocacy is adversarial. What was now being sought, it appears, is for the state prosecutors to be nice to those in the Government and hostile to others who are opposed to them. To replace such a time honoured practice with a process akin to how a Montessori teacher would ask questions from a child is not only condemnable but goes against the very spirit of good governance or yahapalanaya which the coalition leaders boast of pursuing. UNP MPs used parliamentary privilege to attack the state counsel who grilled Ravi Karunanayake while claiming the minister's resignation was a victory for good governance.
On dealing with those in the Opposition, as is now clear, the blame rests on the UNP for delaying such cases. It is well known that the counsel assisting the Commission of Inquiry have been toiling hard, ignoring pressures and other coercive moves, to get to the truth. Another accusation against them was the fact that they had worked under leading personalities of the previous regime. True, but that was their duty and they cannot be faulted for it.
Issues relating to state counsel assisting the Commission of Inquiry first surfaced at last Wednesday's Cabinet meeting. President Sirisena, keen to set the record right about claims that he had a link to them, explained that the wife of one of them had been appointed Chairman of the National Child Protection Authority (NCPA) by him. He said he had given the freedom for ministers to nominate persons for appointments to different positions. Women's Affairs Minister Chandrani Bandara had met him and urged that the lady in question be appointed. He had carried out that request but had on no occasion spoken to the lady. He had no personal dealings with the senior official of the Attorney General's Department. Minister Chandrani Bandara endorsed Sirisena's statement.
Telecommunications Minister Harin Fernando used the lexicon which most politicians do to describe difficult situations. He said it was a "conspiracy". Sirisena rebuked him when he said that the Commission of Inquiry was not appointed to target any particular person. Many have been saying that those in the past Government should be probed. It has not happened and he has been pointing this out. At one point, when a minister wanted a Commission to probe Rajapaksa, the President replied laughingly that he would name not one but ten if necessary.
At Tuesday's ministerial meeting Ministers Rajapakshe and Premjayantha were to make some critical observations of the Concession Agreement on the Hambantota Port. It came to light during the discussion where it was stated that Minister Sarath Amunugama, who had chaired a Cabinet subcommittee, has not forwarded its report. Amunugama was to explain that they have had only two sittings but agreed to present his report to ministers next week. Ports and Shipping Minister Mahinda Samarasinghe sought approval from Sirisena to present the signed Concession Agreement to Parliament. He was given approval. Minister Patali Champika Ranawaka criticised the manner in which bond issues had been made but avoided any reference to Karunanayake.
Referring to a Central Bank presentation with regard to the "Primary Issuance System for Treasury Bond," at a previous Cabinet meeting Minister Ranawaka noted that in 2016 and early 2017, interest rates had recorded a sharp increase. The bond issue was not limited only to the benefits that accrued to Perpetual Treasuries Ltd. He said the rise in interest rates from 8 percent to 10 percent triggered a rise in Government borrowing rates by 5 percent. As a result, investments had to be curtailed. He praised Central Bank Governor Indrajit Coomaraswamy for regaining the confidence of those in the financial markets. His integrity and credibility were the main causes, he said.
Just ahead of the ministerial meeting last Wednesday, a group of SLFP ministers walked up to Premier Wickremesinghe. They told him that if the No Confidence Motion against Karunanayake was presented in Parliament, they would vote in favour. However, on Thursday Speaker Karu Jayasuriya ruled that since the Foreign Minister had resigned, there was no need to debate the motion. According to legal sources, the Speaker had sought the advice of the AG on whether there were legal impediments to the No Confidence Vote against Karunanayake being debated. This was after Premier Wickremesinghe raised issue in Parliament claiming it was sub judice (or under judicial consideration and thus prohibited from public discussion elsewhere). The AG, these sources said, had opined that the Commission of Inquiry was not a Court and the Speaker was free to use his own discretion. It was ironic that while the UNP asked the Speaker to ascertain if a debate was possible on the basis of sub-judice while its MPs were given carte blanche permission to slam the state counsel for their line of questioning before the Bond Commission that is now sitting.
The Karunanayake saga played out through this week. To continue the string of developments reported in these columns last week, Premier Wickremesinghe had a 90 minute meeting with Karunanayake the previous Saturday (August 5) evening. This was after the premier cancelled plans to fly to Nuwara Eliya early that evening. The idea was to persuade Karunanayake to resign his portfolio as Foreign Minister. UNP sources familiar with the goings on said Karunanayake was defiant arguing that he had done no wrong and was not an accused in the bond probe. He had also been bitterly critical of a UNP cabinet colleague. The meeting, the source said, was wound up by Wickremesinghe with the promise that they would meet after his return from Nuwara Eliya.
Last Sunday morning, Wickremesinghe flew from Colombo to Hatton for a string of engagements. Later, due to bad weather, his chopper could not fly him to Nuwara Eliya. He travelled by road. On Monday morning he declared open a new milk processing plant at the Highland Ambewala farm but was forced to cancel other appointments and return to Colombo. President Sirisena had sought to meet him. That Monday he briefed Sirisena on the outcome of his inconclusive talks with Karunanayake. Later in the day, he again met Karunanayake to persuade him to tender his resignation. The source said Wickremesinghe told Karunanayake that if he resigned, there was every prospect of his becoming a Minister in the Cabinet once again after the Commission of Inquiry report was handed in. When Wickremesinghe had won his round of persuasive diplomacy, a meeting with Sirisena on Tuesday was not on the cards. Even the Cabinet meeting for that morning had been put off, first till 6.30 p.m. that day and later to 9.30 a.m. the following day (Wednesday).
Sirisena had travelled to Kandy for ceremonies connected with the Esala Perehera. There, the Diyawadana Nilame makes his customary call on him to report that the Perehera was conducted according to rites and traditions. Thus, a meeting was set with Karunanayake for Wednesday afternoon, hours after the ministerial meeting ended. Karunanayake skipped the Cabinet meeting. Joining President Sirisena were Premier Wickremesinghe and Minister Rajitha Senaratne. According to one source, it was an emotional discussion. Karunanayake was to declare that he was willing to sit as a backbencher but wanted to ensure both Sirisena and Wickremesinghe were protected. This was to prevent the Rajapaksas from making their way into governance. Later, Karunanayake handed in his letter of resignation to Sirisena. During the meeting Wickremesinghe was to raise issue over the Sunday Times political commentary last week quoting utterances made by Sirisena. The President deftly avoided the issue saying he had not spoken to anyone about them.
On Thursday, Karunanayake made a statement in Parliament. Though under heavy pressure, he appeared to maintain his posture. Edited excerpts of his speech appear as a box story. Leaving Parliament thereafter, Karunanayake met a group of supporters outside his own home (now under reconstruction) along Parliament Road and later drove to his apartment. By Thursday night, a group of UNP parliamentarians, more than 30 of them, had gathered at his apartment at Monarch Residencies. Premier Wickremesinghe arrived there and spent over an hour. Also present was Minister Rajitha Senaratne.
Later on Thursday night, Karunanayake attended a dinner hosted by Wickremesinghe at 'Temple Trees'. Among those present were Ministers Malik Samarawickrema, Akila Viraj Kariyawasam, Mangala Samaraweera and Kabir Hashim.
The Karunanayake saga has ended with his resignation and a statement in Parliament – or has it? Contrary to expectations, it has further exacerbated tensions between the two partners in good governance or yahapalanaya – the SLFP and the UNP. With a continuing dip in their relations, the two sides will for the first time seek public approval of their performance at this year's planned Provincial Council elections. What they have delivered so far or have not been able to deliver will be in focus.
I am resigning with pride: Ravi
Ravi Karunanayake, who resigned on Wednesday as foreign minister, made a statement in Parliament on Thursday. Here are edited excerpts:"There have been media and social media reports and discussions about me in the past few days. In Parliament too views have been expressed. A no-confidence motion too has been handed over against me.
"Therefore I believe that I should explain matters to the House.
"There was a question about the apartment I am occupying in Colombo 3. I made a statement before the Commission on Treasury Bonds. Therefore I thought I should explain my stance as a responsible minister and Member of Parliament.
"I wish to present the facts before this House.

"Since there was a renovation at our Battaramulla residence there was a need to shift. I did not have an official residence. Therefore our family members looked for a house. My family members were told Nahil Wijesuriya's daughter had a house. She was a classmate of my daughter. She was opposed to renting out a house to a politician. Therefore my daughter had suggested to rent it out to one of their mutual school friend Arjun Aloysius' company. My daughter reimbursed the lease money.

"The owner decided to sell the apartment and a company owned by our family purchased it. A loan from the Seylan bank was obtained for this purpose. I am tabling document Seylan Bank – Ref: No – WTL.CRD/2016 – 1535, 29 September 2016. The Chairman of the company owned by our family paid the instalments. They have been accounted for in the company accounts.

"Everybody who visited my place is aware of my earnings. They are aware that I did not earn money illegally. I have not used political power for my business activities. Most of the persons who signed the No-Confidence motion are aware that I have not earned money from politics.

"In the past not only the minister, but even a person connected to the minister was not summoned before a Commission. We know how ministers with power acted .We know how Prime Ministers acted. Presidents acted like kings. They still try to hide from the law. We are not like that. We respect the law and order. By presenting myself before the Commission as witness I showed that there is a new political culture and new political ethics. It was appointed to probe what happened in issuing bonds. At the Bond Commission the judges intervened several times and cautioned the way the Additional Solicitor General questioned me. I'm not going to talk about the behaviour or the mistakes in the professional abilities of the Additional Solicitor General. The reason for him to be that much aggressive in his behaviour will be revealed soon. Sometimes it may be a result of a competition for promotions. Or else it may be other reasons.

"The Attorney General's Department was able to investigate 8803 pages within a short period of 48 hours. It is a positive feature. We request them to work in the same speed to find the corruption done by ministers in the previous government and take immediate steps regarding the 87 files that were handed over.

"I worked hard for UNP for 32 years. I faced the challenges during harsh times. I sacrificed all my ambitions for the party. Due to that I received death threats. Court cases were filed against me for false allegations. Tried to arrest me. I was implicated for an exchange fraud for 10 years. Finally I was acquitted. Indrajit Coomaraswamy who worked with Raj Rajarathnam who was charged in that court case is the Central Bank Governor now. I say these facts to show that we were subjected to political revenge when we were in the opposition. Now they are involved in character assassination.

"In the presidential election in 2015 we believed that to defeat the Rajapaksa regime it was I who gave the symbol of the Swan for Maithripala Sirisena who was the common candidate. I used my portfolio to serve the public. To do justice for the party supporters. Everyone in the House, knows that my phone is switched on for 24 hours. I used this position to serve not to enjoy the power and the privileges. What is eternal is the service we did and our good qualities and our honesty. But many do not understand this. They think that their posts are eternal. Power is eternal. Thus, they dream about power even after they were removed from power. They do any cheap thing to take power. They are not worried of what happens to the country if they get power.

But from the January 8 revolution we worked to build a different society.
There is no basis for my charges. I am not involved in any of those. But some groups and media have found me guilty by now. Within the last 10 to 12 days the media acted in an unprecedented manner. They said I have to be crucified. I won't be disheartened by those.

"I feel, there is a conspiracy to de-stabilise the 'Yahapalana Government' based on the allegations against me. There is an attempt to destabilise the democratic process followed by President Maithripala Sirisena and Prime Minister Ranil Wickremesinghe . The persons behind the conspiracy are those rejected by the people, those accused of corruption, fraud and crime. They are trying to regain power to avoid being penalised for the offences.

"That is why I say that history and time will eventually decide my place. My intention is to do the right thing and serve honestly. Irrespective of the allegations I will stand for the truth. I will fight to eliminate corruption and crime from this country. I will work to protect our party members. I will be dedicated to protect the social and political values gained after the January 8 revolution.
"I am not sorry or shocked by the decision to resign, but I am doing it with pride. I am sacrificing my position for the dignity of the House. I am sacrificing this position for the Ministers and the backbenchers who love the party, for the voters from the Colombo district, the persons who love our party. I am sacrificing my position for a novel political culture, for disciplined governance and to protect the democratic rule. I am sacrificing it for the sake of the consensual Yahapalana government of the President and the Prime Minister".