Cam-girls: Inside the Romanian sexcam industry
Interactive webcamming is the fastest-growing sector of the global pornography business. In Romania, thousands of women work as "cam-girls" from studios and from home. It is a 24/7 market, the majority of clients logging in from North America and Western Europe.
In the heart of Bucharest on the pavement outside a tall apartment building a group of young women smoke, talk and laugh. It is an unremarkable scene. Except that in the bright morning sunlight, their heavy makeup, sky-high heels and shiny, revealing clothes contrast with the sensible, summer dress of passers-by.
Inside the building, Studio 20 occupies the first and second floors. Forty rooms open off pristine, white corridors, their walls adorned with pictures of women in states of glamorous undress. A closed door means business. Inside that room a woman is live and direct via webcam with international clients – and as long as she is alone in the room, it is entirely legal. In this world of virtual relationships and cybersex, those in front of the camera are "models" and the men who watch are "members".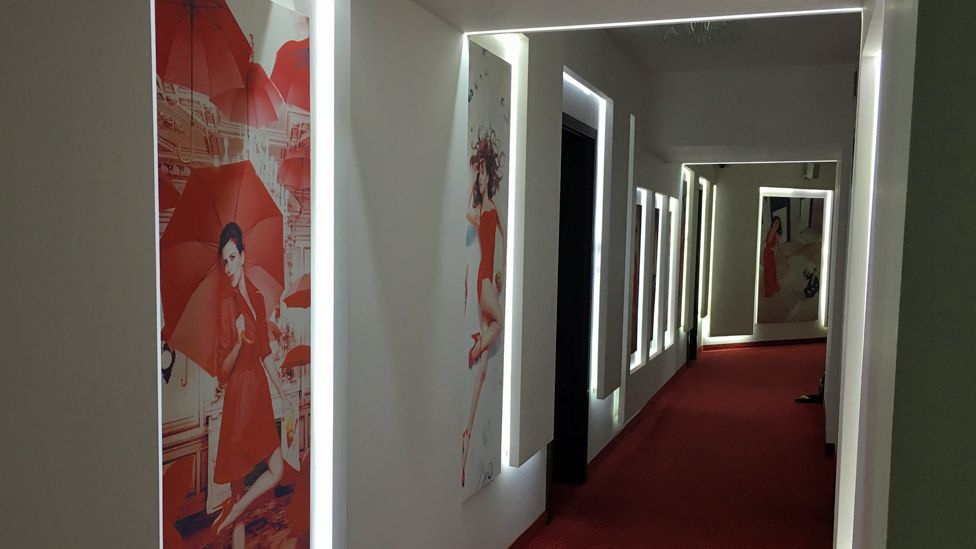 Lana works in Room 8. It is dominated by a circular bed with cushions. There is a wardrobe containing some of her clothes.
"I usually go for dresses, lingerie, or leather," she says.
In a corner of the room there is a large computer screen, an expensive camera and behind them, professional photographers' lights. Dozens of pairs of eyes may view Lana in her room online in real time via dedicated adult websites. But she does not make any money until a member asks her to "go private" in a one-to-one webcam session.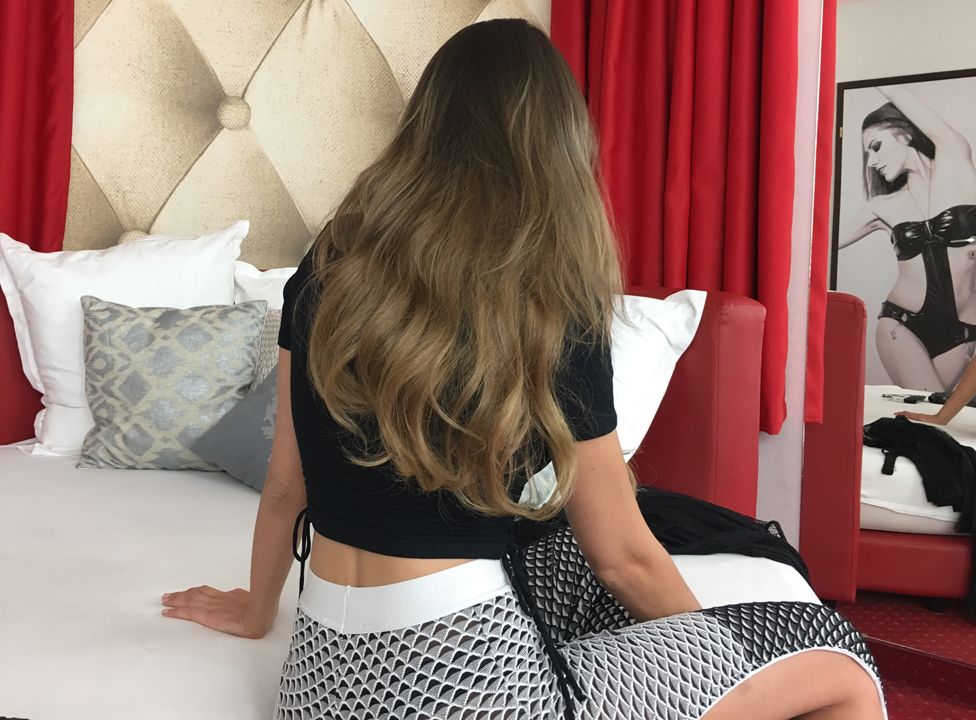 Working an eight-hour day, she earns close to 4,000 euros (£3,600) per month – nearly 10 times the Romanian average wage. As Lana's employer, Studio 20 also makes 4,000 euros per month from her online sessions. And at the top of the video chat money-making pyramid, LiveJasmin – the online cam site that streams Studio 20's content and is responsible for collecting payment from the credit cards of clients – takes double that: 8,000 euros.
---
Find out more
---
LiveJasmin is the largest internet cam host in the world. Between 35 and 40 million users visit it daily, and at any given moment, there are 2,000 models live online. It is not hard to understand how the web-cam industry, overall, generated an estimated $2-3bn in 2016.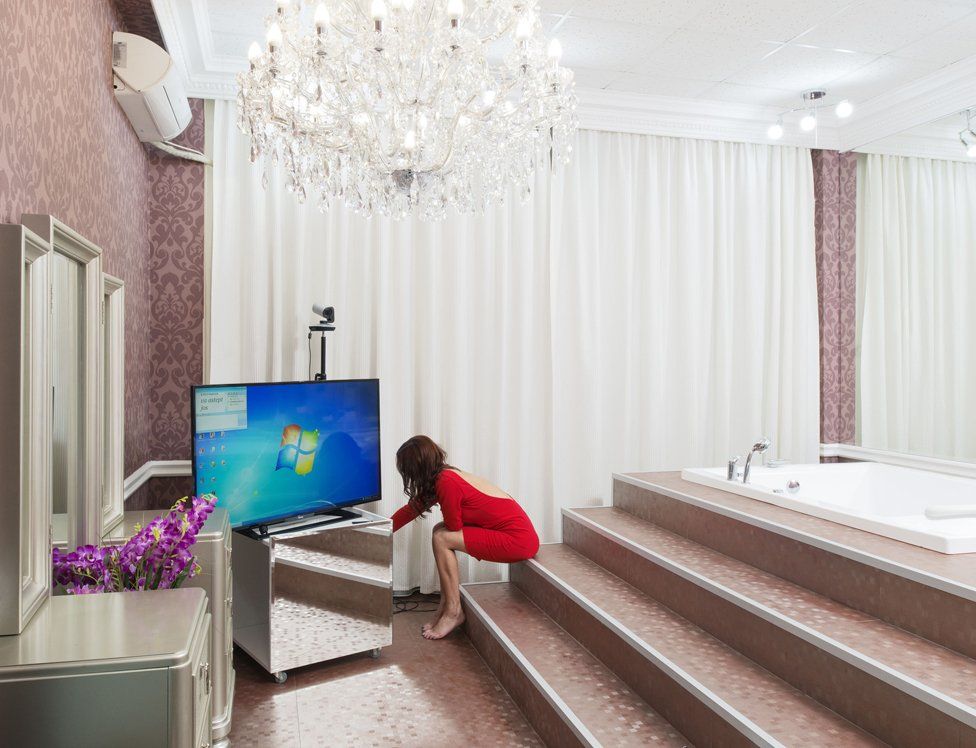 Lana is a graduate who worked in real estate until the global economic crash of 2008 plunged Romania into recession. That is when she first took up video-chat. Her first day in front of the camera has stayed with her.
"I was alone in the room, and it felt like there were hundreds of people around me. And I couldn't keep up with what they were all saying, and what they were asking of me. It was quite shocking. But then I learned to be perceptive about which member was a potential paying customer and not to waste time with all of them in the free online space."
So what happens in a private, webcam one-to-one?
"Mostly it's conversation. I do role-play sometimes, and a small part of it is nudity and masturbation," she says.
While the members sometimes try to push her to do things she doesn't want to do, she is able to set the pace.
"It's up to you as a woman to lead, and that's quite empowering."
The important thing is to keep a paying client online for as many minutes as possible.
"You have 10 minutes of being cute and sexy, and then you better have something to talk about because otherwise the member will not stay," says Andra Chirnogeanu, Studio 20's PR manager.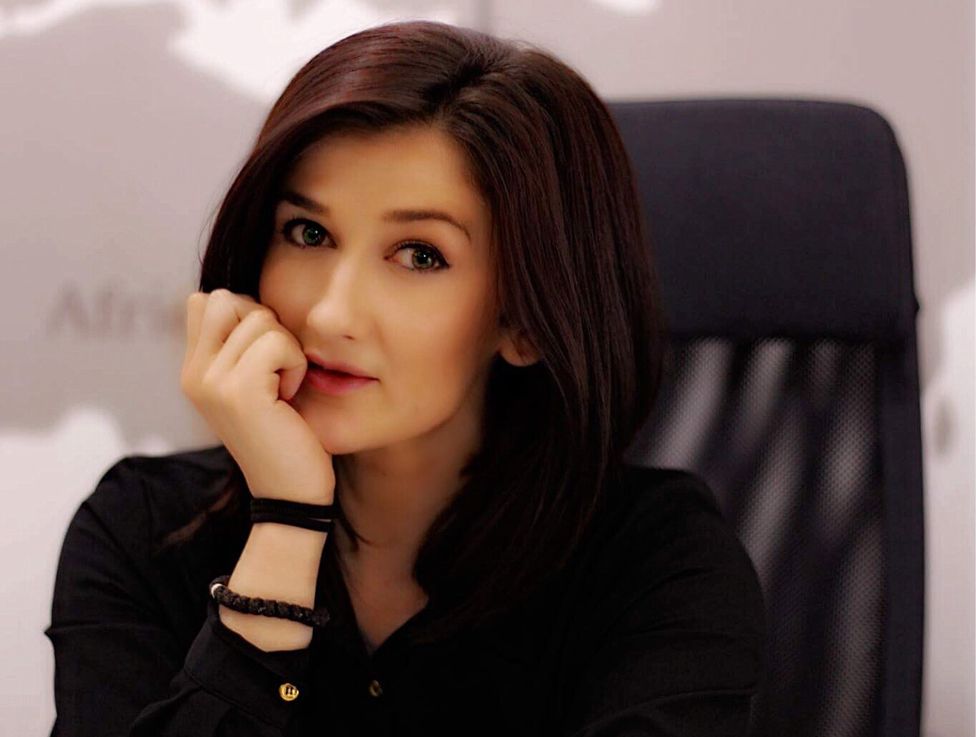 To this end, Studio 20 employs trainers, a psychologist and an English teacher. Most of the clients are North American and European, so it is essential the models can communicate with them.
But the English teacher, Andrea, has a remit that goes far beyond language skills.
"I teach them about fetishes – what a fetish is, why a person has one… We study Freud and a lot of psychology. And we study a book of gestures because women must be sensual, smart and beautiful."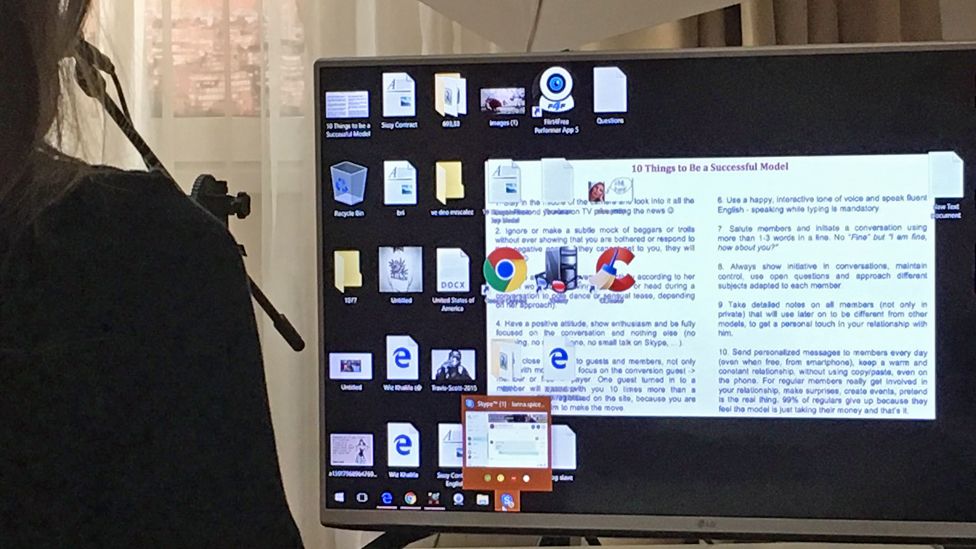 Geography is important too, so the models can talk about where the members are from.
"That or exotic places," says Andrea. "This is not only a sex business as some people think – models have to speak with a member as if this they are in a normal, online relationship. Being able to discuss many subjects brings comfort to both parties."
Studio 20 is the largest studio webcam franchise in the world. It has nine branches in Romania, including one employing "cam-boys" who service the gay market. Its other branches are in the Colombian city of Cali, Budapest and Los Angeles.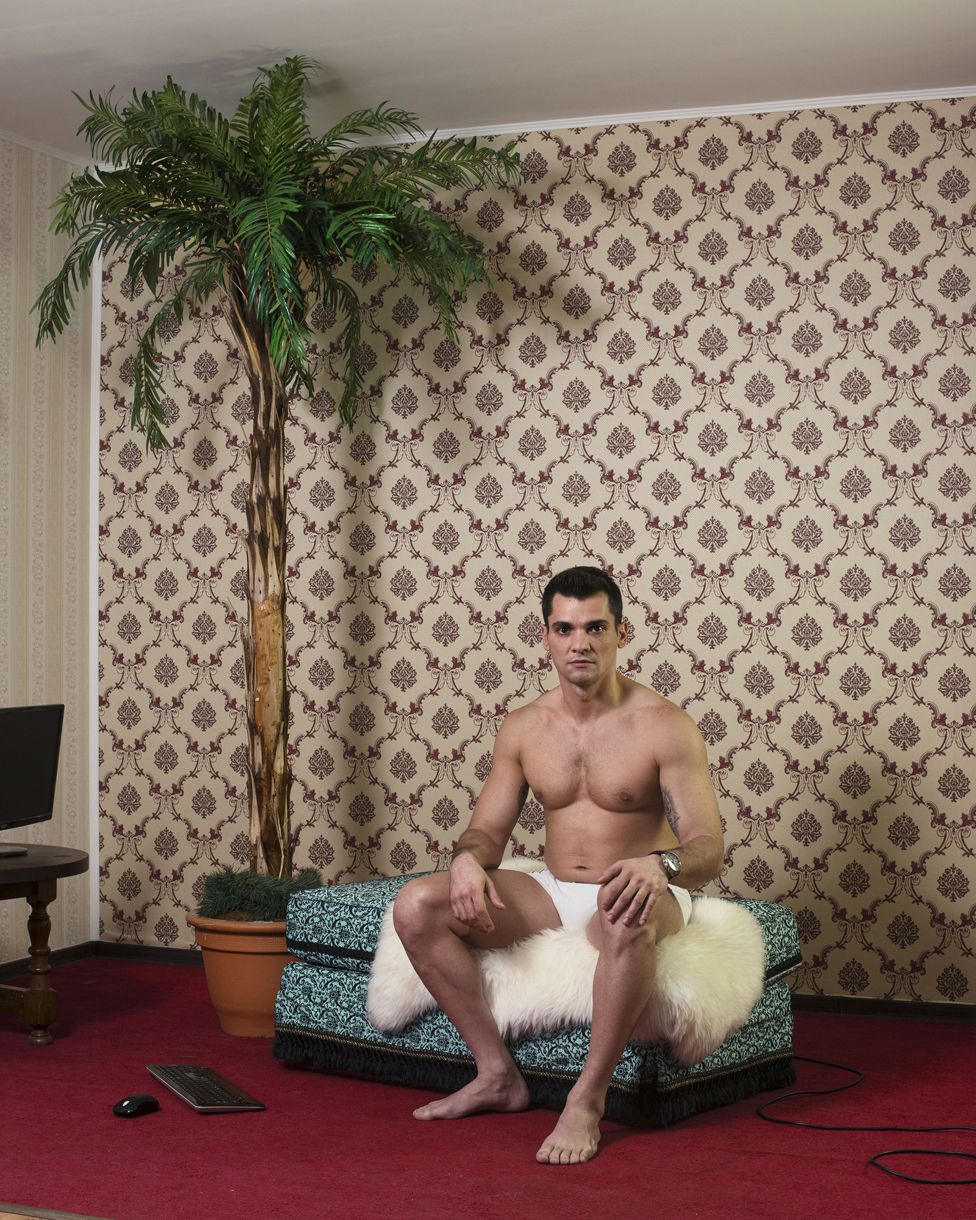 Not all models work from a studio. Sandy Bell – a graduate with two university degrees – is one of a small army of women who webcam from home. She makes about 100 euros (£90) a day when she goes online to supplement her income as an interior designer. One advantage of being independent – and dealing directly with a web-hosting company – is that she earns a larger percentage of members' fees.
"Mostly they're nice guys, not crazy men," she says. "There are a lot of members looking for love. They want the connection. Some members want you to call their name. Or to talk to them while you dance and strip. I'm very honest with them – they know I have a boyfriend, and they know we are not going to have sex in real life."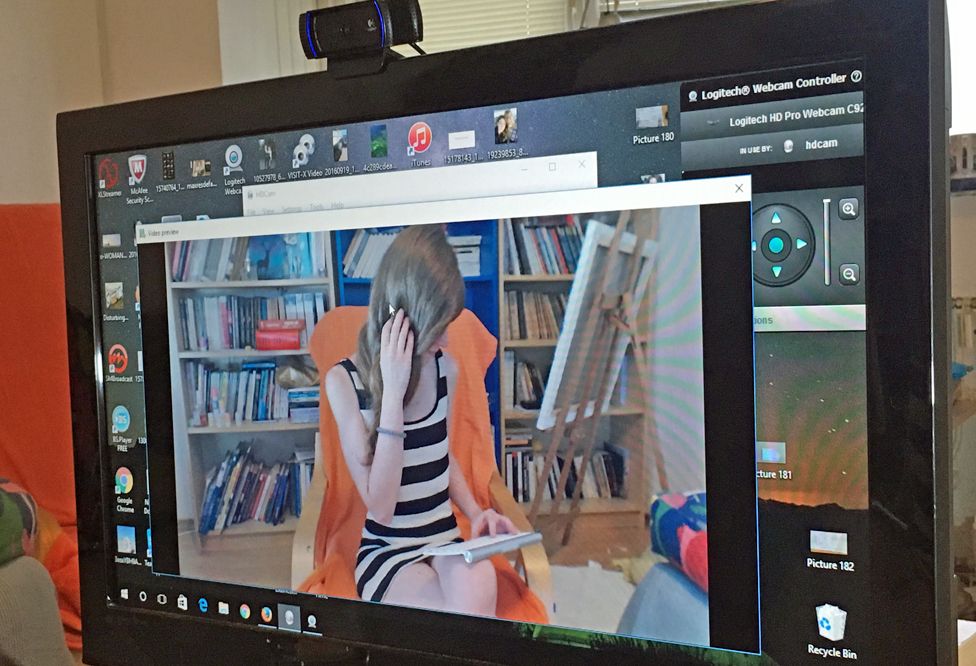 Sandy Bell's partner lives with her in their high-rise flat on the outskirts of Bucharest. He knows what she does, but her parents do not. It is not uncommon in this industry – even for studio owners – to hide their occupations from family and friends. This accounts for the fact that those who talked to the BBC in Bucharest preferred to use their cam name, or just a first name.
Unlike many who work in the sex industry, Sandy Bell does not worry about her own security.
"What can a member do to me? If he crosses a line or even if he is rude to me, I just click the mouse and stop it. And I can talk to the administrator on the website and they ban the IP address, so the guy can never enter again even if he changes his nickname. I mean, those people are thousands of miles away from me. They don't touch you – nobody touches you. You go online alone and you work online alone. This has nothing to do with prostitution."
Is Sandy Bell a victim? She says she is not, though feminists such as Irina Ilisei say the question is more complicated than it seems.
"Do we talk about women who are forced to do this? Are they women who choose it? Or perhaps they do it because they are psychologically manipulated, or they have a lack of economic stability. Probably, it's a combination of all these factors."
Ilisei believes the push factors include Romania's high rate of teenage pregnancy, and the fact that 30% of those who finish higher education cannot find a job.
The webcam industry also does its best to entice young women into the business.
"There are advertisements on university campuses," says Ilisei. "Students get direct Facebook messages with offers of work. And the studios are very corporate – exactly like an entry-career job in other fields. The language is all about empowering young women, being independent, learning skills, even getting bonuses if you convince your friends to try it too."
For Lana, 31, webcamming has provided enough money for her to bring up her daughter alone, and to think about investing money in something "that will bring money to the country". She plans to give up in two years' time.
But some women are not free to make the choices Lana has. Oana, 28, counts herself as an escapee from the sex industry. At 16 – a minor – she fell in love with a boyfriend who persuaded her to do video chat.
"He told me I just had to talk. That's all. But he was in the room with me, and we made pornography there."
It is illegal in Romania for a man and woman to webcam together, but it is impossible to say how commonly the law is flouted in the way Oana describes. She went on to work as a prostitute in Germany, until she found the courage to return to Bucharest and a new life. Now she works in sex work prevention – talking to young women about her experiences, and trying to persuade them of the danger of video chat.
"There are girls who think they will just stay in front of the camera and make money. But all the things they do there will affect their minds. The next step is prostitution. I see that now."
Lana disagrees.
"It's about selling your brain, not your body," she says. "I see it like a performance, like a show. But this is not a job for everybody – a lot of girls quit after a few weeks or even days, because they have this mindset that they're selling their body. Your mindset is what matters in this job. I have my limits, and I truly do not feel exploited."
Andra Chirnogeanu, Studio 20's PR Manager, also rejects the idea that this is risky or psychologically damaging work.
"It's psychologically damaging to stay 12 hours in an office getting paid a minimum wage," she says.
But the fact that models often seek to conceal their job is, perhaps, telling. If Lana and Sandy Bell could have made a good living using their qualifications and other work experience, would they still have chosen to undress for clients in New York, Frankfurt and London?