RK: The belligerent but beleaguered Minister
Bond Commission revelations severe embarrassment to Govt., especially to the UNP; party stalwarts also ask FM to quit
Renewal of MoU, Sirisena to wait till December 31 for Bond Commission and Budget debate to be concluded
Amendments to hold all PC election on a single day next year; local council elections unlikely this year
Minister Ravi Karunanayake appeared Wednesday before the Commission probing the bond scam and his testimony plunged a Government, voted to office on the edifice of fighting bribery and corruption, into its worst embarrassment.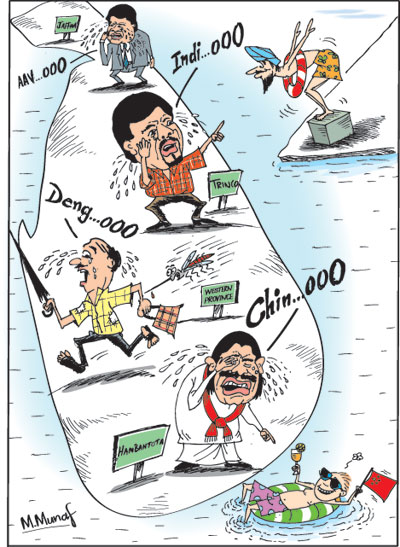 During five hours of testimony, he denied any knowledge of how the apartment where he lived at Monarch, adjoining Colombo's Hotel Cinnamon Grand was acquired on lease for Rs 1.45 million a month. Later it had been purchased for Rs 165 million. The deals had been done by his wife and daughter. He had only learnt that Arjun Aloysius of Perpetual Treasuries had rented it after the matter was raised in Parliament by Mahindananda Aluthgamage, former minister and an MP from the 'Joint Opposition.' Had he known earlier, he would have not occupied the apartment, Karunanayake who was the then Finance Minister said. Perpetual Treasuries is at the centre of the inquiry into alleged misappropriation of a colossal amount of money from a Central Bank bond scam under the incumbent Government.
---
A further insight into the matter can be gleaned from the relevant Q & A before the Commission:
Q: Did your wife visit the premises before you rented it.
A: I was told that she did
Q: She went there alone?
A: I don't know.
Q: Did she tell you that she met Arjun Aloysius in the premises
A: No
Q: She did not tell you that Mr Aloysius came in and discussed matters with Miss (Anika) Wijesuriya in the presence of your wife.
A: No. All I know is that Miss Wijesuriya was the former girlfriend of Arjun Aloysius.
Q: Miss Wijesuriya said that when your wife visited, she called Mr Aloysius and he visited the place.
A: I don't know that. I am only privy to what my family has told me.
Q: Are you aware of the existence of the company Walt & Row?
A: No
Q: Do you know that Arjun Aloysius and his father are directors of this company?
A: They are directors of many companies. That's all I know. I do not know who is owning what.
Q: You did not know that this apartment was leased by Walt & Row from Miss Wijesuriya?
A: No. I need not know.
The three-member Commission of Inquiry was appointed by President Maithripala Sirisena and was gazetted on January 27 this year to probe the alleged Central Bank bond scam reportedly running into billions of rupees. Justice C. Chitrasiri, its Chairman, Justice Prasanna Jayawardena and retired Deputy Auditor General Kandasamy Velupillai are members. Among their terms of reference is one to ascertain whether there has been misuse or abuse of power, influence, interference, fraud, malpractices, nepotism or any act or omission connected with corrupt activity in relation to the bond issue.
The Commission had earlier heard the testimony of Anika Wijesuriya, a director of East West Properties Ltd. She told the Commission Aloysius had obtained the apartment for Minister Karunanayake and family initially on lease for six months. She had later asked the wife of the Minister, Mela Karunanayake to purchase the apartment and sought Rs 180 million. They had later agreed to Rs 165 million and the deal was closed.
At the end of his testimony, Karunanayake appeared before television cameras outside the Commission premises in Hulftsdorp and declared, "Certain media groups were set to hang me without trial. I proved them wrong." If he told the Sunday Times last week that interested groups wanted to make him a "fall guy", Karunanayake this time accused the Attorney General's Department of "tarnishing" his image and for trying to "capitalise on it to gain top positions." He added, "These are consequences of certain misdeeds carried out by our own fellow politicians. That is the biggest quandary I have ever faced. I can tell at this moment that the truth will unearth soon. It cannot be concealed".
Within minutes rather than hours, what Karunanayake told the Commission began to reverberate countrywide. For the United National Party (UNP), it came as a severe blow. Its leaders had vowed ahead of both the presidential and parliamentary elections to deal with those accused of bribery and corruption. Karunanayake himself was, ironically, one of the most vociferous anti-corruption advocates at the time. He often said "we will not be going after the small fish, we will go after the 'thora' (big fish). The party's main plank included accusations against former President Mahinda Rajapaksa, members of his family and officials of that administration.
When the new Government assumed office, a much publicised Presidential Task Force for Assets Recovery was established to ferret out hidden wealth, both here and abroad, of those in the previous Government. It has so far produced zero results except for a pile of travel bills of some members. It was only last month that President Maithripala Sirisena admonished the UNP leadership at the weekly Cabinet meeting for stalling investigations into high profile cases. That the Government was into its mid-year tenure unable to produce results irked him. And now, a UNP Cabinet Minister has testified before a Commission of Inquiry bringing in its wake allegations of serious corruption.
Prime Minister Ranil Wickremesinghe sought an urgent meeting with Sirisena on Wednesday evening. Ahead of that, he met Karunanayake to determine his own position. What the two leaders of the "National Unity Government" discussed during their one-on-one meeting is not known. However, one source said Wickremesinghe urged that the Commission be allowed to complete its proceedings before any form of action was contemplated. In effect, he was seeking more time before any action is initiated. Unconfirmed reports said Sirisena was not in favour since the revelations were of a very serious nature and it was incumbent on the UNP leadership to decide on immediate action. This was on the grounds that the revelations had an adverse bearing on the entire Government, and Sirisena himself was under pressure to act.
Earlier, at a dinner at 'Temple Trees' to felicitate Premier Wickremesinghe for his 40 years in politics, Sirisena met briefly with Karunanayake, one of the guests, as he walked around. The two were alone for a moment. When Karunanayake raised issue, Sirisena replied that it was better for him to resign his portfolio. Then, Sirisena was conspicuous by his absence when laudatory speeches were made in Parliament on Friday to celebrate the 40th year of the Prime Minister as a Member of the House. He was in Anuradhapura on official engagements. Sirisena told friends later laughingly that "Eya mata bena bena yanawa" or he (Karunanayake) is scolding me. To some, he even recounted the events that prompted him to appoint a Commission of Inquiry to seek the truth behind the bond issue.
UNP leaders set in motion measures to cope with a rapidly changing situation. Wickremesinghe met his ministers and party parliamentarians to seek their views on what should follow. On Friday in Parliament, a group of ministers met Karunanayake for a 'confidential' discussion. They included UNP General Secretary Kabir Hashim, Rajitha Senaratne, Mangala Samaraweera, Gamini Jayawickrema Perera and some MPs. They urged Karunanayake to step down until his name is cleared by the Commission's probe. The Foreign Minister had argued saying he had done no wrong and had raised an overdraft from a local bank to purchase the house. He had said that he was only a witness and was not in any way associated with the alleged bond scam. He said he had shown bank statements to the Commission. He had said that his wife handled his personal work. The group urged Karunanayake to step down as Foreign Minister until such time the Commission concludes its findings. There was also subtle hints that a refusal to step down could lead to dismissal.
At one point, when Finance and Media Minister Mangala Samaraweera suggested that his colleague Karunanayake step down temporarily, he was defiant. He said if he did so, what about others who would or are facing such accusations, he asked.
Samaraweera was to explain that in this instance it was not a case of a telephone number of a colleague being found or his name appearing in an SMS that has come to light. He said there was a specific instance where it has transpired that he had lived in an apartment that had belonged to Arjun Aloysius and had denied any knowledge of how it had happened.
According to one senior UNPer, Karunanayake was livid with a ministerial colleague from his own party and had accused him of being among those out to destroy him. Highly placed UNP sources said that Premier Wickremesinghe was due to meet Karunanayake last night to urge him to step down from the post of Foreign Minister until the sittings of the Commission are over. Wickremesinghe had not wanted to make the appeal earlier allowing time for his ministers and MPs to first raise issue with the Foreign Minister. Thereafter, he was to tell him, that his position would be reviewed once the Commission's report is handed in.
Yesterday, Wickremesinghe was in Kataragama taking part in religious ceremonies to mark his fortieth year in politics. The same source said that a number of Karunanayake's ministerial colleagues were in favour of the Foreign Minister stepping down though a few did argue that he had not been found guilty of any offence. They also said he had not even been indicted. The call for his resignation is on the grounds that the issue, ahead of local and provincial elections, was causing heavy embarrassment to the party.
Since admonishing the UNP leadership for stalling investigations into high profile cases, Sirisena has personally taken initiatives to expedite them. The move has seen increased consultations between those in the Attorney General's Department and the different state investigative arms. A new probe which Sirisena has initiated involves the payment of US$ 146 million for the cancellation of three Airbus A 350 900 aircraft.
Vote of no-confidence
The other partner in the ruling coalition, the Sri Lanka Freedom Party (SLFP) is also in a dilemma. This was after its rival group that includes the 'Joint Opposition' handed in a Vote of No Confidence on Foreign Minister Karunanayake in Parliament. It was signed by 'Joint Opposition' leader Dinesh Gunawardena and 31 others. Some of the signatures were obtained at Joint Opposition MP Keheliya Rambukwella's son's wedding at the Cinnamon Grand earlier this week. A date for the debate is to be determined at a party leaders' meeting with Speaker Karu Jayasuriya at noon on Tuesday. He left on Friday night for Teheran for ceremonies connected with the inauguration of the re-elected President Hassen Rouhani. Firstly, the pro-Sirisena SLFP group has been strong critics of the UNP for stalling high profile investigations against the anti-Sirisena SLFPers. Secondly, they claimed, it was pro-Sirisena SLFPers who were brought in for investigations. As one SLFP minister, who spoke on grounds of anonymity said, "We cannot remain non-committal when a vote is taken. We have to support it. Even abstaining will make our position weak."
The 'Joint Opposition' Vote of No Confidence against Karunanayake saw sharp differences in its own leadership. An influential section was all out to stop the move. One of the powerful among them in fact telephoned a UNP stalwart on Friday and declared he was unable to come over to Parliament to make a laudatory speech on Premier Wickremesinghe since the motion was due. The 'Joint Opposition' leader Dinesh Gunawardena told the Sunday Times "we are asking for an early debate. This motion is not personally against an individual. It is against a person who is holding an exalted position where public trust is essential."
Former President Mahinda Rajapaksa now MP for Kurunegala District told the Sunday Times "I will vote for the No Confidence Motion. Reports that I will stay away is not true," he said.
This is what the 'Joint Opposition' Vote of No Confidence says:
"Since Mr Arjun Aloysius, as a Primary Dealer has been accused in a major financial fraud over Treasury Bond transactions carried out in 2015 and 2016,
"Since Mr Ravi Karunanayke as the Minister in charge of the subject of Finance and a close associate of Mr Aloysius has been actively trying to defend him (Mr Aloysius) while maintaining illegal financial transactions with him as revealed in the Commission of Inquiry into issue of Bonds,
"Since Ms Karunanayake inspected the house in the Monarch apartment complex, Kollupitiya and Mr Aloysius paid the rent for a six month period amounting to Rs. 10.2 million enabling Mr Karunanayake and his family to occupy the apartment giving him undue financial advantage and subsequently carrying out a transaction that lacks transparency by the purchase of the said apartment for Rs 165 million by Global Star Logistic, a company owned by the Ravi Karunanayake family,
"Since the apartment occupied by Mr Karunanayke was purchased using money provided on the instructions of the Karunanayake family owned Company Global Transportation Chairman Lakshmi Kanthan and Ms Karunanayake where undeclared money amounting to Rs 145 million packed in bags and held in a private safe was made use of thereby seriously violating regulations of the Prevention of Money Laundering Act and the gazette notification by the Financial Intelligence Unit on Financial Transactions Reporting
"and,
"Since the confidence in Mr Ravi Karunanayake who served as the Minister in charge of the subject of Finance has eroded, if he continues to hold a ministerial position it would be a disgrace to the national economy and therefore the House resolves that he should resign from the ministerial position held."
Like its SLFP counterparts, for the UNP too, the Vote of No Confidence will come as a dilemma. At a discussion in Parliament lobbies, a UNP minister asked how the party was going to oppose the vote particularly in the light of Karunanayake denying any knowledge of the transactions relating to the lease or purchase of the apartment. Of course, there were a few who held the view that the party could vote against the motion since it was a "witch hunt" against Karunanayake. It could therefore, also galvanise the UNP which is divided currently on Karunanayake remaining as a minister.
MoU's term ends this month
The Karunanayake saga comes at what seems a crucial period both for the UNP and the SLFP, the two main partners in the coalition. Their Memorandum of Undersanding (MoU) for the present "consensual" Government ends on August 22, or in just 16 days. Contrary to claims earlier by SLFP General Secretary Duminda Dissanayake, there is no written provision in this MoU about a renewal date of December 31, 2017. The SLFP' former general secretary and Disaster Management Minister Anura Priyadarshana Yapa confirmed this yesterday. He told the Sunday Times, "We are yet to discuss with President Sirisena what should follow (once the MoU lapses on August 22). It will take place soon."
Why then was a deadline of December 31, 2017 placed by President Sirisena? The Sunday Times has learnt that there were two main reasons. The main one was the Government's budget proposals in November which would require the support of both the SLFP and the UNP. They would together support it on the basis that the agreement is allowed to hold till year end. Another is the Commission of Inquiry probing the Central Bank bond issue. Its term has been extended until end October. President Sirisena will thus be able to determine the causes and those responsible for this alleged billion-rupee swindle before the conclusion of a renewed MoU. It was only a week ago, Sirisena told an SLFP Executive Committee meeting that he left a corrupt Government to form a new one. He said he would not continue in a Government that was also corrupt.
Local and PC elections
The deadline of December 31 also comes amidst the impending local government and provincial council elections to three bodies. Whilst the likelihood of a local government election before year end is increasingly remote, the Cabinet of Ministers has decided to amend laws to put off polls for Eastern, Sabaragamuwa and North Central provincial councils. This is until such time amended legislation is introduced to enable all provincial council elections to be held on a single day.
Provincial Councils and Local Government Minister Faiszer Mustapha told a news conference last week that a two-thirds vote in Parliament would be required to put off polls for the three Provincial Councils. Whether the Government is able to muster a two-thirds vote remains one thing. However, the most important issue, if the Government does succeed in passing the amendments, would be how both the SLFP and the UNP propose to contest them. If it is after December 31, the prospects of the two sides fielding their own candidates cannot be ruled out.
Premier Wickremesinghe who sought the re-scheduling of Provincial Council elections noted in his memoranda to the ministers that the election process, "having adopted a staggered system in the recent past, an undesirable socio- political environment has emerged in the country that would result in:
Inefficient allocation of Government's financial, human and other resources for unending election related activities, almost every year.
Undue disruptions to State Service Delivery System and day-to-day activities of the General Public.
Increased possibility of Election-related violence, malpractices and abuse of state Resources due to concentration of National Political Figures, Media and Political Party Machinery in a limited geographical area.
Creating ability for the incumbent government to exert undue influence on the outcome of the election by concentrating State Resources and State Media to a restricted area.
Distortion of Public Perception of Country regarding the popularity/unpopularity of a political party based on the outcome of the election held in a particular Province that can be a decisive factor for the subsequent elections, having chain effects.
The emerging consensus among the party leaders, Wickremesinghe pointed out, is that all elections should be held under the same system i.e. Mixed Member Proportional System as agreed at the Steering Committee (involved in the Constitution making process). The local council elections should be held on a single day and the Provincial Council elections should also be held on a single day. This should facilitate the voters knowledge of the electoral system by which the Parliamenary elections are held.
Wickremesinghe added: "The term of Provincial Council is five years and it cannot be dissolved prior to expiration of its term unless the Board of Ministers concurs to do so. It is mandatory for the Commissioner of Elections to call for nominations within one week from the date of such dissolution.
"In view of the prevailing legal provisions, it is inevitable to hold Provincial Council Elections on a staggered basis since their current terms would be concluded on varying dates from September 2017 to October 2019. The situation necessitates:
"Further amendments to the 13th Amendment of the Constitution: Inserting a Provision immediately after Article 154E, requiring the elections for all Provincial Councils to be held on the same date. Inserting a transitional provision empowering the President of the Republic or the Parliament to dissolve all Provincial Councils on the specified date and in the event of the term of office of any Provincial Council conclude prior to the said specified date, the term of office of such Provincial Council should be extended beyond such date until the specified date."
The need for a two thirds vote makes it difficult for the Constitutional amendments to be made. Additional Elections Commissioner (Legal and Investigation Branch), M.M.M. Mohamed told the Sunday Times, "The conduct of the Provincial elections will depend on the proposed amendments which the government hopes to bring. If the amendments come before the due dates for the elections, we will have to go by the amendments. The elections for the Sabaragamuwa, North Central and Eastern Provincial Councils were due to be announced in October, after terms lapse at the end of September." Mr Mohamed said the local elections will also depend on the proposed amendments.
The heightening political developments this week come at a time when friction between the two coalition partners, the SLFP and the UNP, is widening. Just last week, the Cabinet of Ministers took up for discussion a proposal by President Sirisena to set up a National Economic Council. Once more, Premier Wickremesinghe made an appeal that the discussion be further delayed by a week giving him time to study it and discuss it with Sirisena.
During his visit to Bangladesh last month, Sirisena discussed with Bangladesh Prime Minister Sheikh Hassina the working of the National Economic Council in that country. She gave him a detailed overview of how this premier economic policy making body will function. In Sri Lanka, once set up, the proposed NEC will be the premier body and the present Cabinet Committee on Economic Management (CCEM) will
function under it. The CCEM is chaired by Premier Wickremesinghe.
For both the pro Sirisena SLFP and the UNP, the challenges this week are formidable. Karunanayake's evidence before the Bond Commission has come as a big blow for the UNP leadership and bolstered SLFP claims to go it alone. One is not wrong in saying this is the beginning of a new crisis which portends to end with not just "bruises" but severe wounds, particularly for the UNP.