… but the crowd was kind to him!
The former strongman, now Number Two has made it a practice to participate in the night Pooja at the Kataragama Ddevalaya on the last day of every year. And the Devalaya authorities, well aware of his annual visit, would make it a point to make way for him to participate in the ritual hassle-free.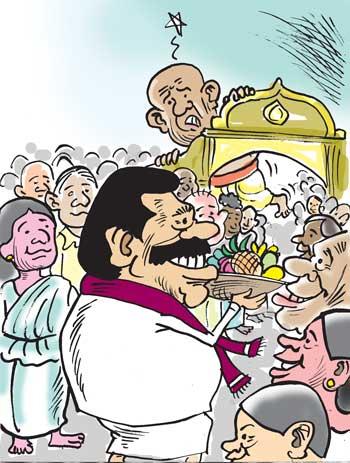 The former strongman was in Kataragama this year-end too on time for the night Pooja. However, he found to his surprise on arrival the Devalaya premises chock-a-block and it was impossible for him to reach the devalaya to participate in the night Pooja!

Meanwhile, the word spread that the former strongman had arrived for the Pooja and the crowd on their own made way for him to enter the Devalaya to participate in the Pooja.

It had later transpired that a certain authority in the devalaya management politically opposed to the former strongman had deliberately created the congestion to prevent him from participating in the night Pooja.

A local politico who witnessed the scene said that he was going to ask the devalaya top management to inquire into this incident where someone had abused his position to gain a narrow political objective, they say.